Michael Moreci, writer of Chaos: The Chosen one shot, talks with Michael Uslan about his Justice Inc. #3, both on sale Oct. 22 and in stores now.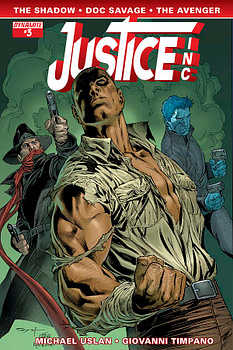 Michael Moreci: First of all, great work on the issue — lots of fun. Now, you've been tied to the pulps for some time. What keeps you coming back for more?
Michael Uslan: These characters are the inspiration of and prototypes for Batman, Superman and a host of … well, Avengers. Their historic importance cannot be overstated. They not only capture a violent and troubled time in American history, but they became legendary in fulfilling America's desperate need for heroes. With my pocket pulp universe within Dynamite, I intend to treat them with respect yet at the same time try to make them more enticing to younger fans and today's fans. It's not saying "This is not your father's Doc, Shadow or Avenger," but rather "These are your father's heroes, but more accessible to young and new fans via some contemporary tweaking of their actions, reactions, and dialogue."
MM: I love that you used the Avenger, a character who doesn't usually get a lot of playing time. How was it being able to employ him?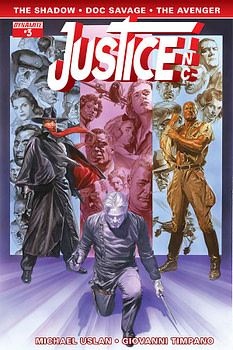 MU: In 1975, I wrote the first-ever meeting between the Shadow and the Avenger. So after almost 40 years, it's like old home week! He has never been given any real chance at comic book stardom since the 1940's as a back-up feature only. In the '70's, he only had four issues plus my Shadow cross- over before the infamous DC Implosion ended the book. Even in DC's New Wave, he was merely a back-up in Doc Savage's comic. Now we present "Justice, Inc. Begins," at last giving his star a chance to shine!
MM: I've seen you mention how this series, Justice Inc, ties together with your Shadow/Green Hornet series and will lead to a third series. Can you tease anything about that?
MU: Events pertaining to Franklin Roosevelt, Shiwan Khan, Howard Hughes, Tesla, etc. all tie back into my graphic novel, The Shadow/Green Hornet: Dark Nights.
One clue in the pages of Justice, Inc. will eventually be the link to my 2015 comic book work/graphic novel for Dynamite. Start searching!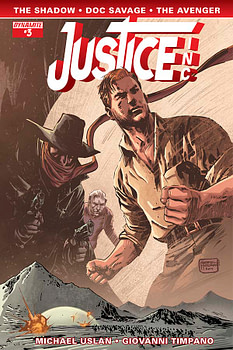 MM: The Shadow movie –great superhero movie or greatest superhero movie?
MU: Ehh. Some really nice moments. Didn't like Act 3 when it was more about Alec Baldwin and his facial visibility than about The Shadow. It lost me when Shiwan Khan asked Lamont at which Brooks Brothers store he bought his suit.
MM: Justice Inc. feels pretty epic. Can you tell us a little of what's in store?
MU: A smashing together of the past and future amid the present as our villains seize control of time itself. The Shadow betrayed by one of his own! The Avenger learning the true fate of his wife and daughter, testing his own moral code in the process. Doc being tossed from the Shadow's auto-gyro over Manhattan!
For more on Justice Inc #3, click here.