By Michele Brittany, a West Coast Bleeding Cool Correspondent
This Wednesday sees the release of the fifth issue of Penguins vs. Possums from independent publisher Fanboy Comics, who also published the volume one trade paperback of the series' first four issues this past spring. The creator-owned series is from the trio talent of Sebastian Kadlecik, John Bring, and Lindsay Calhoon Bring and in issue five, they continues the tale of the "epically entertaining action/comedy series" according to Fanboy Comics Managing Editor Barbra Dillon.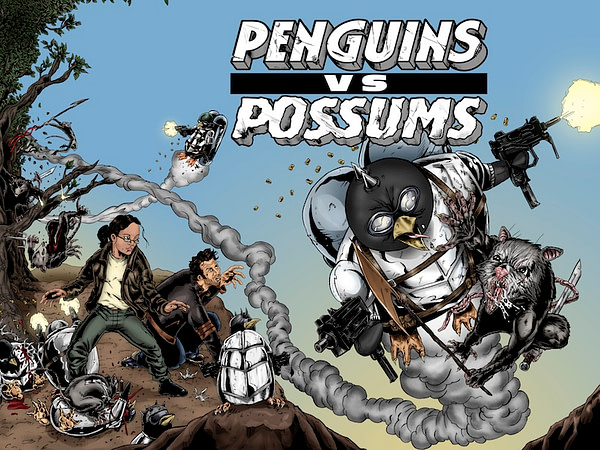 Why penguins and possums? According to Kadlecik, "They would not be at odds in nature" so it allowed him, John Bring, and Lindsay Calhoon Bring the opportunity write an "over the top story" about the two species waging a war that goes fairly undetected by the human world. The title does strike a humorous chord and there are a number of funny moments in the first five issue of an initially planned eight comic book series, however this tale should not be discounted as light reading.
Penguins vs. Possums is a compilation of each writer's interests. Kadlecik brought Greek mythology and Shakespeare to the creative table, John Bring his curiosity in portrayal of anthropomorphic qualities of animals that he enjoyed in The Tick and Teenage Mutant Ninja Turtles, and for Lindsay Calhoon Bring, its the exploration of shot and character development that she enjoyed in Watchmen. Their mix of interests resulted in Penguins vs. Possums having a deeper, philosophical side.
The writers have created a balanced story between the penguin and possum factions led by Xiao and Amaru, each struggling to find harmony in their respective societies, which are both experiencing turmoil as each transition away from societies steeped in traditional values to a new political ideology. Readers witness both the good and bad of each species. As in real life, sympathies could fall to either side – penguins or possums – and it is a testament to the writers' ability to stay neutral and allow the readers to choose their side. Hence, the story cannot be seen in terms of black and white; there are shades of grey to all of the events that unfold in each issue. While the first four issues have been confined to penguins and possums characters almost exclusively, in the fifth issue, a human element is introduced and provides a new dynamic element to the developing story.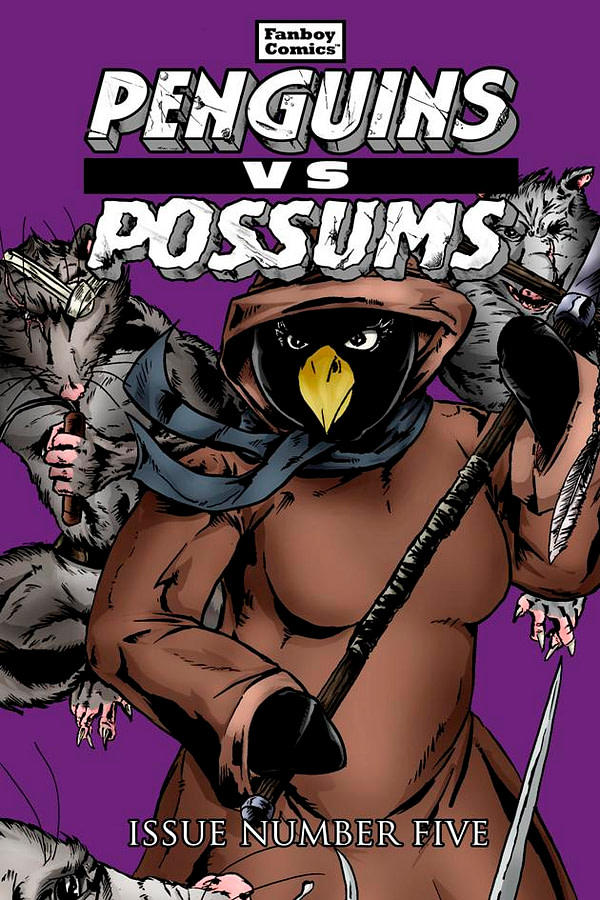 "We are committed to telling a good story which mirrors our values," Lindsay Calhoon Bring said. And for John Bring, it is a gratifying dream to see Penguins vs. Possums in print. He added, "every issue is like it's the last one we'll make – we put every ounce of passion and effort into each issue." He hopes it is a commitment that the readers will pick up on as they read the series.
Penguins vs. Possums will be available for purchase starting Wednesday at Fanboy Comics, or if you are planning to attend Comikaze this weekend in Los Angeles, California, look for the publisher's booth at AA1351 for copies of issue five as well as volume one.
Michele Brittany is an independent popular culture scholar and semi-professional photographer and editor of the forthcoming title James Bond and Popular Culture: Essays on the Influence of the Fictional Superspy (McFarland & Company). She regularly posts reviews and analysis on the spy/espionage genre on her blog, Spyfi & Superspies and can be followed at Twitter @mcbrittany2014.