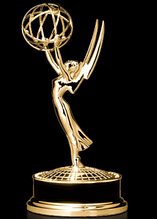 The Emmy Awards were presented last night during a ceremony in Los Angeles and Game of Thrones made history as the show presented with the most awards during one telecast. The HBO fantasy series picked up Outstanding Drama Series, while Peter Dinklage won Outstanding Supporting Actor In A Drama Series. The show also picked up awards in writing and directing in the drama categories, with the its total awards numbering twelve.
Viola Davis also made history as the first black woman to win Outstanding Lead Actress In A Drama Series for How To Get Away With Murder. Her emotional acceptance speech lit up social media last night.
[youtube]https://www.youtube.com/watch?v=OSpQfvd_zkE[/youtube]
While it's definitely nice to see a fantasy series earn recognition, did it have to be for Game of Thrones's most wavering season to date? But I suppose that's the nature of awards, they often come late and recognize achievement as a whole.
Other than Thrones, Parks and Recreation and Last Week Tonight with Jon Oliver, I don't watch any of the other nominated shows with any regularity. Even The Daily Show with Jon Stewart and The Colbert Report were things I'd see clips from the next day. Considering most of these shows are still on the air, I'll endeavor to watch a few more over the next year.
And the Emmy went to:
Outstanding Drama Series: Game of Thrones
Outstanding Comedy Series: Veep
Outstanding Limited Series: Olive Kitteridge
Outstanding Lead Actress In A Drama Series: Viola Davis, How to Get Away With Murder
Outstanding Lead Actor In A Drama Series: Jon Hamm, Mad Men
Outstanding Supporting Actress In A Drama Series: Uzo Aduba, Orange is the New Black
Outstanding Supporting Actor In A Drama Series: Peter Dinklage, Game of Thrones
Outstanding Writing for a Drama Series: David Benioff, D.B. Weiss, Game Of Thrones
Outstanding Directing for a Drama Series: David Nutter, Game of Thrones
Outstanding Lead Actress In A Comedy Series: Julia Louis-Dreyfus, Veep
Outstanding Lead Actor In A Comedy Series: Jeffrey Tambor, Transparent
Outstanding Supporting Actress In A Comedy Series: Allison Janney, Mom
Outstanding Supporting Actor In A Comedy Series: Tony Hale, Veep
Outstanding Directing for a Comedy Series: Jill Soloway, Transparent
Outstanding Writing for a Comedy Series: Veep
Outstanding Actress in a Limited Series or TV Movie: Frances McDormand, Olive Kitteridge
Outstanding Actor in a Limited Series or TV Movie: Richard Jenkins, Olive Kitteridge
Outstanding Supporting Actress in a Limited Series or TV Movie: Regina King, American Crime
Outstanding Supporting Actor in a Limited Series or TV Movie: Bill Murray, Olive Kitteridge
Outstanding Writing for a Limited Series, Movie or Dramatic Special: Olive Kitteridge
Outstanding Directing for a Limited Series, Movie or Dramatic Special: Lisa Cholodenko, Olive Kitteridge
Outstanding Variety Talk Series: The Daily Show with Jon Stewart
Outstanding Variety Sketch Series: Inside Amy Schumer
Outstanding Writing for a Variety Series: The Daily Show with Jon Stewart
Outstanding Directing for a Variety Series: Chuck O'Neil, The Daily Show with Jon Stewart