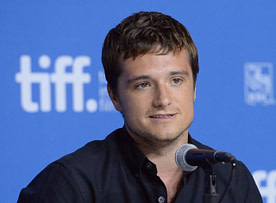 Here at Bleeding Cool's film tab, we follow the developments of James Franco's The Disaster Artist with great interest. The film, based on the book of the same name, will see Franco take on the role of Tommy Wiseau, the writer, director and star of The Room. His brother Dave Franco will play actor and Disaster Artist co-writer Greg Sestero. The book is equal parts "making of the worst movie ever made" and a tale Sestero's friendship with the odd and secretive Wiseau.
Now, comes word from The Hollywood Reporter that The Hunger Games Josh Hutcherson will appear in the film as Philip Haldiman, the actor who played Denny in The Room.
Seth Rogen will also appear in the film in an as-of-yet undisclosed role. He is also producing along with Franco and their various production companies. Franco is directing the picture, which will not be released soon enough for our liking.