Dynamite has sent us a writer's commentary on the first part of Charmed #3 by Erica Schultz. Cover by Joe Corroney and interiors by Maria Sanapo.
As always, I just want to give thanks to the amazing collaborators on this story. Maria Sanapo and Heartwork Studios are kicking ass on art. Tom Napolitano is doing a great job at lettering, and Anthony is our editor extraordinaire.
Now let's jump into the story!
PAGE ONE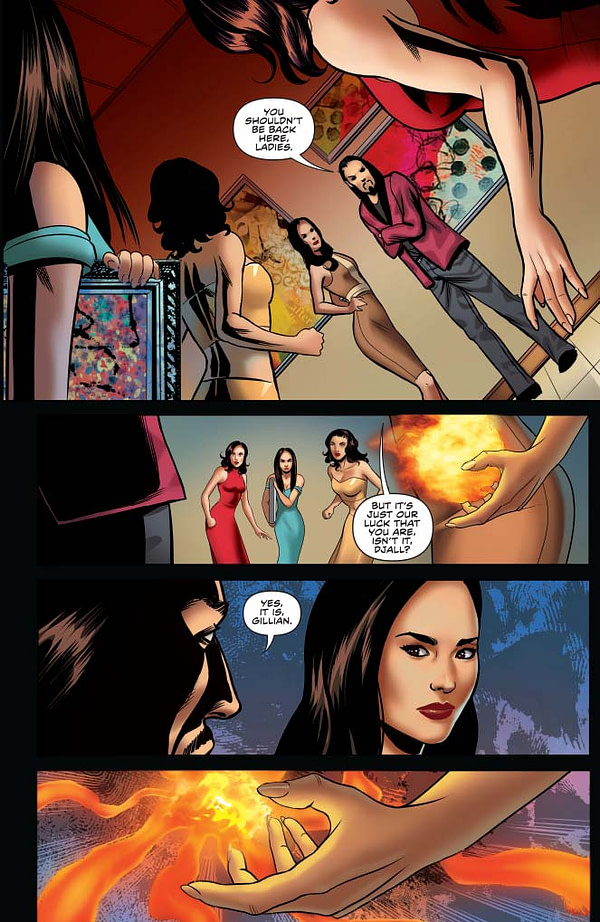 We pick up right where we left off from book two, in the Eisenberg Gallery, where the Halliwell sisters are confronted by Djall and Vephar (in the guise of Gillian, the gallery manager). We wanted there to be a smooth transition from the previous book into now, because there's so much ground to cover.
So we start off with sisters taken off guard, but we all know how they can turn on a dime.
This just has to be pointed out: Maria and Heartwork Studios have done such a great job in giving these paintings life. Even in the smallest way, they really pop off the page.
PAGE TWO I love Piper's tug of war with Djall. It's fun and shows a playfulness and humor that was part of the TV show.
What I think this page really shows is Maria's incredible talent for character acting. The facial expressions, the looks in their eyes, Maria really brings them to life in her line art.
Also anyone who knows Charmed from TV knows the fun fashion that was showcased in the series. Maria has such a great sense of style with these outfits.
PAGE THREE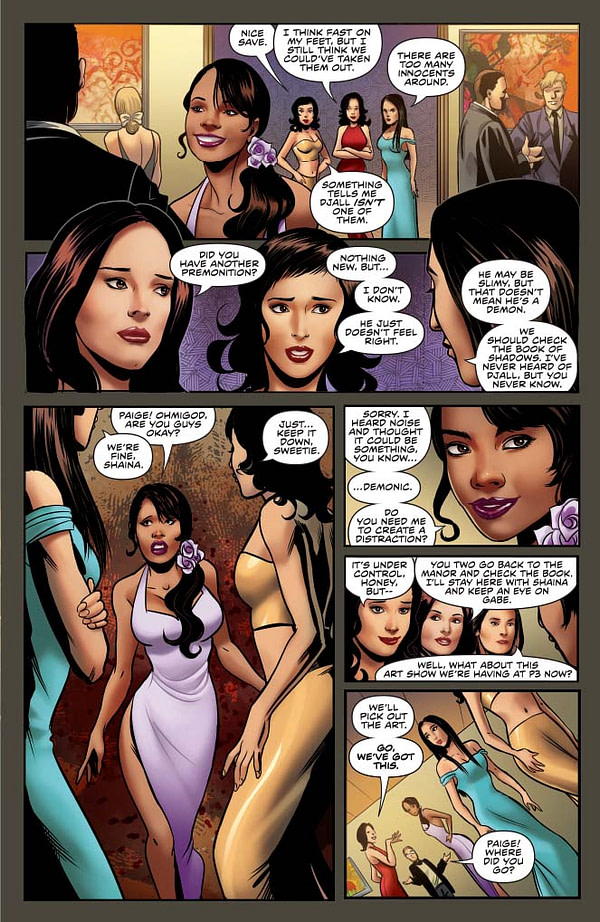 Okay, I love Shaina. I think she's gorgeous. Maria created a beautiful, fun, and kick ass gal. She's got style, and she's so eager to help the sisters out. Shaina will play a big part in our finale, so keep an eye on her.
We also see Paige taking charge here, which plays off her back and forth with Piper. Sibling rivalry is something that was always a part of the show. I think the interesting parts of season 4 of the show was Piper taking on the mantle of the big sister and Paige reconciling her independence with being part of a larger family now.
PAGE FOUR The enemy of my enemy…that seems to be the way Vephar is looking at her alliance with Djall. Could he possibly make good on all the promises he made to the demons of the Underworld? We'll soon find out. But Djall can't resist asserting his authority one more time.
PAGE FIVE Lest we forget Gabe! The man of the hour! Gabe is so humble in Paige's praise. We'll see more of that, don't you worry.
And who can get over Shaina's fangirl expression? Love it!
We also get a glimpse of Paige's own protective nature toward her charges. When Djall gets a little TOO close to Shaina, Paige is quick to change the subject and get between them, even physically. She has her own mama cat streak in her.