Dirk Wood and Alex Cox of IDW Publishing were at the Diamond Retailer event yesterday talking to British retailers about the publisher and their upcoming titles. Well, Dirk was, Alex had lost his voice leading to an entertaining Penn-And-Teller-style presentation.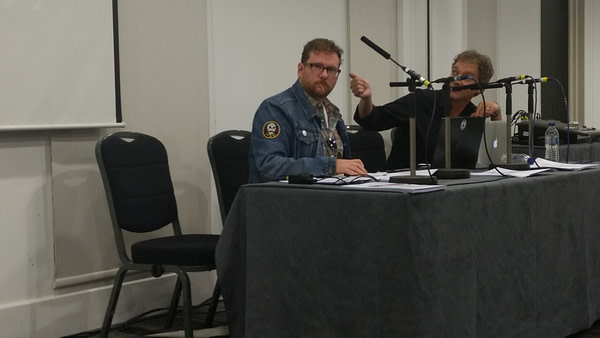 We learnt that their current Star Trek Discovery comic book series that directly ties in with the Netflix TV series, is their highest selling Star Trek title for quite some time.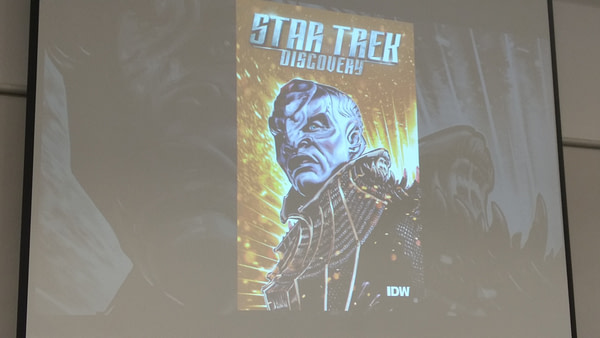 That their Highest House original graphic novel by Mike Carey and Peter Gross that they are in joint publication partnership with its original commissioner, Glenat, can be seen as a thematic sequel to Carey and Gross' The Unwritten – which makes DC's decision to cancel the second Unwritten deluxe collection all the more peculiar.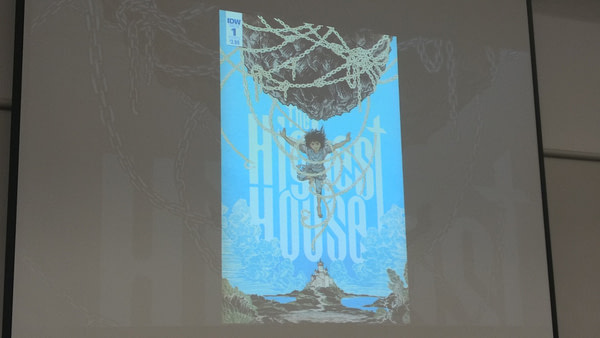 There was much talk of Black Crown as an imprint with strong British appeal – especially in the light of the thirtieth anniversary of Deadline Magazine that Titan Comics talked about. And about how Tini Howard had wanted someone like Gilbert Hernandez to draw Assassinistas, so they got Gilbert Hernandez. We got a chance to critique Dirk Wood's cursive handwriting from the sixth grade. And he had lots to say about his Comics Journalalike Full Bleed magazine, in the face of what he saw "as the internet destroys the world, with the exception of Bleeding Cool." It's handy to be at eye-level. So he talked up the interview with Stephen King about comics, Batman, horror, and what his mother let him read. The show runner of Dirk Gentky talking about the Dirk-inspired play he created that was endorsed by Adams.Gideon Kendal's strip about trying to get to San Diego Comic-Con, Show runner on dirk gently launching a Dirk-based play, endorsed by Douglas Adams, talking about Adams, Erin Nation's strip Teenage Boy about going through puberty twice, Bob Fingerman's political caricatures. a Tom Truman/Joe Lansdale short story and Mark Russell on histories of Herodotus.
So, you know, stuff. Wood also offered to take any complaints about Marvel and DC back to them since they hadn't shown up. Alex could only nod along…