This article contains spoilers for the Gotham season 4 episode – A Dark Knight: A Day in the Narrows.
.
.
.
.
.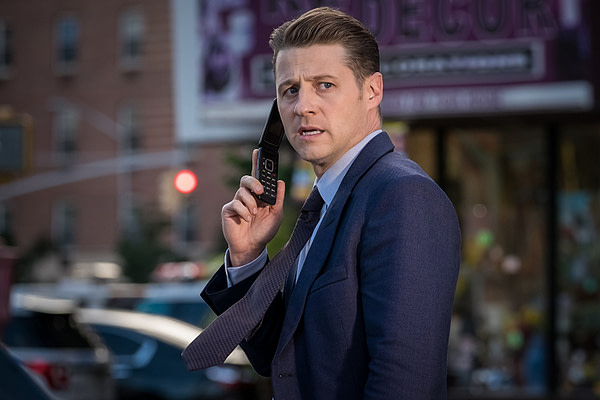 It looks like the writer's of Gotham are finally getting around to fixing the most important thing that they broke along the way… Jim Gordon. As much as I love the other characters in the series, I was starting to like Harvey Bullock more than Jim. He crossed the line far too often, didn't care about anyone else and acted upon his own moral code… which was a bit questionable. By bringing in Professor Pyg and making the Penguin in charge of the city from the criminal side, it's forced Gordon back into the role of the hero and lays out the corruption. Gordon is standing up to Penguin and to Pyg and getting the rest of the GCPD behind him again. This will be at the expense of Bullock and Penguin… which won't make Oswald very happy at all.
The Bruce storyline is interesting in that they're taking him out of his comfort zone and putting him into the playboy aspect but with an edge. And if you weren't paying attention you might have missed them re-introducing another Batman villain. Seems Poison Ivy wasn't the only recasting as we got a new Tommy Elliot. In season 1 Tommy was played by Cole Vallis and lead a group of bullies who teased Bruce about being an orphan. Bruce ended up punching Tommy three times while holding his father's watch. Tommy is now grown some and played by Gordon Winarick. He's also cool with Bruce punching him, saying he deserved it. For those not familiar with Tommy Elliot, he ends up becoming the villain Hush in the comics. Bruce takes his anger out on Tommy's friend Brant by embarrassing him when he can't get them into a club, so Bruce buys it (or already owned it). He then invited Tommy and the two girls in, making Brant leave. Bruce then cuts loose drinking, dancing and making out with Grace.
The third plot line was Selina Kyle going off and doing a job, getting in trouble and Tabitha and Barbara coming to save her, bonding them together as a team. And we get to see Sofia and Oswald interact, with Sofia telling Penguin that it was a bad idea to associate with the GCPD and it turns out she was right.
This felt a lot like a course-correction episode. It's main purpose was to move a few stories forward and put Gordon back on track to being the good cop in a corrupt city. It also put bullock back on track to be the bad cop. And it sets up a few things like whatever Bruce is doing with Tommy and the Gotham Sirens working together. This won't go down as anyone's favorite episode… but we do get the cool scene of Gordon charging into a building with a machine gun / grenade launcher.
Looks like things aren't good with Gordon and Bullock and there may be a new captain soon. Next week turns the focus back to Grundy and Nygma, the Of Mice and Men of Gotham. But it also looks like they're pulling all the toys out of the box next week as we'll get to see the Sirens in action again and even Firefly shows up.
https://youtu.be/lAR4T5wvUbk