Dave Sim is continuing his Cerebus In Hell one-shots into 2020 with Silver Cerebus. And while Dave Sim may not be able to draw much Cerebus yet (though he has been managing a little) and still relies on cut and pasted Cerebus stories, he can at least hold a microphone. Whether or not he can sing… well that's open to interpretation.
SILVER CEREBUS ONE SHOT
AARDVARK VANAHEIM
(W) Dave Sim (A) Dave Sim, Gustave Dore (CA) David Birdsong (A/CA) Benjamin Hobbs
"The Secret Origin of The Silver Cerebus!" Meet Lone S. Kum, CEO of Telsa Motors and #1 Elon Musk fanboy (who can't wait to crush Musk "like the outmoded neo-Luddite insect he has become" and dominate the Interplanetary Submersible Balance-Board Buoyancy Space!) and who uses his "special" touch to get himself elected Supreme Commander of the Electrical Grid Fairies! Inventor of FACEBOT 365! Sponsored by Online Revisionist Mongoloid Contrarians For A Better Past! He sells his electric vehicles exclusively through Sony Playstation 4 Gift Cards! Watch as this Industrial Genius pries the secret of the ALTERNATIVE! ANIMAL! REAL! GRID! out of the Electrical Grid Fairies! We shall not see the like of Lone S. Kum, The Silver Cerebus, again in our lifetimes!
In Shops: Feb 26, 2020
SRP: $4.00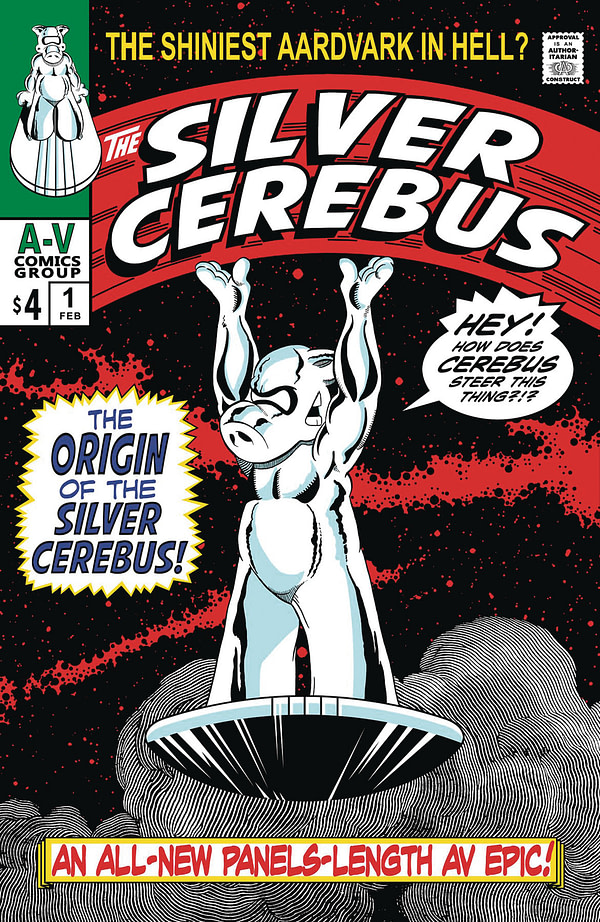 And on that note, Vark Wars is in comic book stores tomorrow.