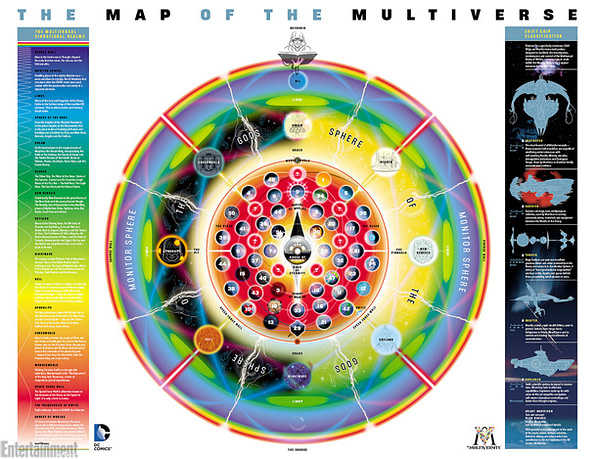 This is the Top Ten Bleeding Cool Bestseller List, as compiled by a number of comic stores from their sales on Wednesday and Thursday. It measures what are known as the "Wednesday Warriors", those who can't wait to the weekend to get this week's comics. We salute you, and the keenness you bring to your passion.
And head over all was the launch of Multiversity. Despite the high price, Morrison proved a big draw, especially in a week without Batman and Amazing Spider-Man, but it also beat out mainstay Batman Eternal. But a more open field also allowed the likes of Fade Out, Trees and WicDiv to stride high as well.
Multiversity #1
Batman Eternal #20
Batman and Robin #34
Fade Out #1
New Avengers #23
New 52 Futures End #16
Teen Titans #2
Daredevil #7
Trees #3
The Wicked + The Divine #3
Thanks to the following contributing retailers,
Do contact us if you'd like to join them. And this is what they had to say.
Its nice to see people are not scared off of Morrison yet. Amongst the grim and gritty, this was a fun romp and people gave it a shot. Batman Eternal still is the top regular book. Fade Out did very well.

Batman Eternal was the winner for the week, with Multiversity a second place contender. Would have been first if it had a cheaper cover price. Image titles took 4 of the top spots since Marvel produced no big titles this week.

Any back-issue with Venom in it moved this week. Seems to have picked up more interest since the rumor of a Venom movie is in the works. Also moved a lot of Superman back-issues from all titles he has starred in. primarily Superman/Batman from the early 2000's.

Grant Morrison's Multiversity is doing well. Batman Eternal 20 actually beat it sales wise at the store. School is back so sales are a little softer. Supergirl bounced into the top ten thanks to the Doomed crossover. Marvel was a little light this week.

Spiderman back issues are still strong. Flash back issues along with Green Arrow back issues are riding the T.V. buzz.

Interesting week in new books! Multiversity sold well, but not fantastic. Had lots of people excited about it and lots that said they refused to buy a Morrison book after Final Crisis. The Fade Out sold awesome, coming in as our third highest selling book this week. If you're like me, seeing Brubaker & Phillips names on a book is enough alone to guarantee you buying it. Numbers on DC's weekly series seem to be dropping slowly, Futures End much faster than Batman Eternal. Original Sins #5 was very talked about and pretty much despised by everyone I talked to. SAY IT AINT SO MARVEL!

Dc and Marvel owned the week.  The younger crowd really have taken in Eternal and Futures End.  Deadpool and Harley Quinn continue to own every week in total sales.  With The Walking Dead cleaning up the non traditional comic book fan.

Bit of a mixed bag this week. Was really looking forward to Multiversity coming in. Unfortunately I forgot to drop some acid before reading it so I was completely lost, as well as disappointed. I mean, Grant Morrisons name is right there on the cover so what the hell was I expecting?
I'm not sure why I always expect All Star Superman and I'm surprised when I get Doom Patrol. Some retailers just never learn I suppose.

Set up at the Chicago Comic Con and while it's too early to tell (only :Thursday night and Friday attendees at this point) – splitting the show into two halls was (surprise, surprise) a disaster only comparable with last years disaster of splitting the show into two halls (though on different floors last year). Attendance feels lackluster seeing that 50% of the attendees are in the other room. So even if 70,000 people are there – at best it can only feel like 35,000.

There's no crowds ( a good thing to some) – but without those crowds, you lose quite a bit of the excitement and urgency. While walking down a mostly empty aisle is swell when you need to head to a restroom, it's not so great for any of the retailers, or customers that enjoy hanging with other fans, seeing Cosplay, etc.
Here's hoping it all changes today (Saturday)…

New Grant Morrison week!!! Multiversity took the #1 spot with Batman Eternal a pretty distant 2nd. Also a new Brubaker and Phillips book. People who were late getting into Fatale jumped at the opportunity for a new #1. Robin Rises pushed Batman & Robin further up the list as well as the Doomed tag with Supergirl. Wicked + Divine has had steady numbers and I expect the first tpb to do very well. A few takers for Delinquents #1 though not enough to make the top ten.

There was a great deal of excitement about Multiversity. We're also running a "design your own Multiverse" contest encouraging readers to buy a blank cover edition and design their own alternate universe, and the response has been very strong. The Fade Out was very well received also, beating out all Marvel titles in our store this week and beating out all but 3 DC releases.