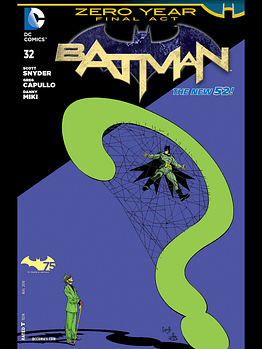 This is the Top Ten Bleeding Cool Bestseller List, as compiled by a number of comic stores from their sales on Wednesday and Thursday. It measures what are known as the "Wednesday Warriors", those who can't wait to the weekend to get this week's comics. We salute you, and the keenness you bring to your passion.
Batman tops the chart, as it usually does on release, but so closely followed by Outcast. It's safe to say that if enough retailers had ordered enough copies, it would have topped the charts, as there were reported sellouts allover the place.
BATMAN #32
OUTCAST BY KIRKMAN & AZACETA #1
AMAZING SPIDER-MAN #3
SUPERMAN #32
SAGA #20
JUSTICE LEAGUE #31
BATMAN ETERNAL #12
GUARDIANS OF THE GALAXY#16
UNCANNY AVENGERS #21
TREES #2
Thanks to the following retailers
Who had this to say….
Outcast #1 was the winner this week. I have a feeling that was to be expected from everyone. I still have no idea how this book is in such demand this quickly though on the after market. I would have thought that stores would have been smart enough to order this book to keep the shelves for at least the first six months. It just means that then 500 copies i ordered will be gone by Monday. Oh yeah Batman is still kicking ass.

Weird week for back-issues. No real trend to follow, just a little bit of everything sold across the board.

That's a strong Image sweep of the top. A little surprised that Superman #32 didn't do at least a little stronger, though this is the best performance for Superman since Morrison left Action…

Wow, sold more this Wednesday than the last two Wednesdays combined. Batman is still the king. Superman with Geoff Johns and Romita Jr has people excited and sales show it. Guardians of the Galaxy flies of the shelf even though I ordered more than I did the previous issue. Original Sin 3.1 and Original Sins 2 are surprisingly invisible to most of our customers. Aquaman 32 thanks to the bombshell variants makes into the top ten and sold out for us. DC's weekly series are still very strong. Wish every Wednesday and Thursday could be this good.

I now sell more single copies of the Incredible Hulk's first original run out of the back issue bin than I do the current Hulk's monthly series. People are tired of the creative team on the Hulk changing every few months. The same situation is happening with the Avengers even including all the current various Avengers titles. Though most customers are just tired of all the Avengers spin offs.
Bleeding Cool always welcomes new retailers to join our panel – please get in touch!