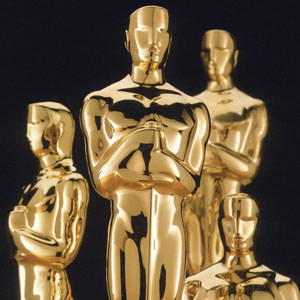 Tonight's the night. It's like the Superbowl for people who prefer cake to pies. It's the biggest game of Dress Up in the Western World. It isn't much to do with celebrating quality and ambition in moviemaking, but a number of the people involved at least try to make it so. I always enjoy it more than anybody else I know and therefore typically end up watching the last 80% (around four and a half hours worth, if memory serves) by myself.
It's The Oscars. Woo, hoo, etc.
I've made some predictions as to what we can expect to see before the show is done tonight. I would have set these out as a bingo card but some are a little on the wordy side.
Deadline's Michael "Brainwash" Fleming will crash the stage during the Best Documentary Feature Award wearing a Monkey Mask and a hoodie
Hosts James Franco and Anne Hathaway will have some kind of pretend disagreement in which she calls  him "Franco" and gives the camera an Amirite? expression.
For the first time ever in Oscars history, nobody will cry during the In Memoriam section, directly as a result of Celine Dion's Smile
A sizeable proportion of the show's hundreds of millions of TV viewers will somehow be surprised when Black Swan/ The Fighter/ Inception/ The Kids Are All Right/ 127 Hours/ Toy Story 3/ True Grit/ Winter's Bone doesn't win best picture.
A Miracle Max lookalike will bring the show back from the dead about two thirds of the way through
Somebody will mention Ricky Gervais. If it's a derogatory mention, it will get a round of applause. They may even cut away to Robert Downey Jr. for a reaction shot.
Monday morning's sunrise will occur.
Tune in tonight to see how accurate I've been. I'll be watching, but I won't be live tweeting or live blogging or live anything except for actually watching and paying attention and eating as much fat and sugar as I can. If you want live coverage of The Oscars, my recommendation is… to watch The Oscars.