It began, as many things to, with a reader and collector praising Tom King and Andy Kubert's Up In The Sky Superman story from DC's Superman Giant series for Walmart. With King tweeting in response to someone buying original art from the series.
Got 12 pages of Up in the Sky up on my wall. Beautiful stuff. https://t.co/MM7GvnId3g

— Tom King (@TomKingTK) December 14, 2019
Then I stuck my oar in, because I do that kind of thing.
I do. But it's been 20 years. Starting to get used to it.

— Tom King (@TomKingTK) December 14, 2019
Only for comic book (and other things) writer Brad Meltzer to do similar…
@ChrisEliopoulos does me a total solid and letters the pages we do. Like it's the early 90s. Or 1950.

— Brad Meltzer (@bradmeltzer) 15 December 2019
And for letterer Chris Eliopoulos to confirm and give details of his process,
I print out the lettering on full-page white label paper. I cut out all the balloons, straight-edge the page and place the lettering like I did in 1989 when I started in production.

— chris eliopoulos (@ChrisEliopoulos) December 15, 2019
And Brad Meltzer to show the proof.
Voila. Master at work. pic.twitter.com/fIfn1mt8QP

— Brad Meltzer (@bradmeltzer) December 15, 2019
That is the original art of the page from Marvel Comics #1000, by Brad Meltzer, Julian Tedesco and, yes, lettered by Chris Eliopoulos, especially for Brad.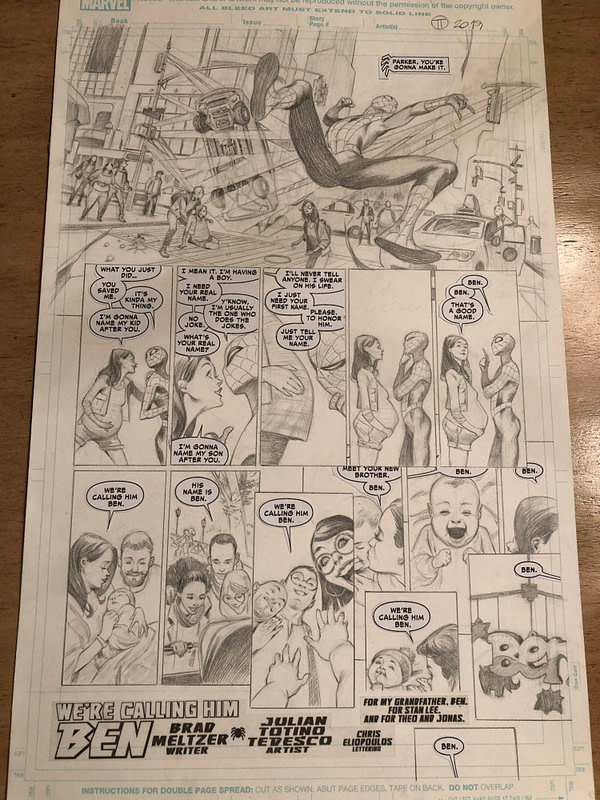 Now everyone will want this…