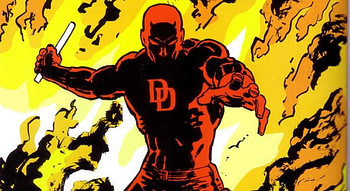 Another question about the Marvel-Netflix deal has just come up during the Disney shareholders conference call and here's what Jay Rasulo* said about these shows leading to increased value for their Marvel IP.
Marvel has thousands of characters… and it is not possible to mine them all with filmed entertainment. While these characters are attractive characters they are not among the most popular… it's not likely we would have made feature films about them… though if they are popular on Netflix, they could become feature films.
Not likely that they'd have made a Daredevil film? While they've got Ant Man and Guardians of the Galaxy already on the calendar?
Crikey. Did Ben Affleck drop a Babe Ruth in the pool or what? Is Daredevil really that low down on the Marvel pecking order?
Anyway, there we go. It's possible – I guess it always was, but it was suggested here with some brightness and sincerity – that The Defenders could go from Netflix to the silver screen.
*I think. It sounded like him.