By Tim Hanley
After almost a year and a half of Marvel posting the higher percentage of female creators, the Big Two have spent the last few months trading the top spot back and forth, with DC eking out the higher percentage this month in what seems to have become a race to the bottom. Both publishers were down from their November totals, which weren't all that impressive to begin with. We also take a look at the past year in total and see how each category is trending.
DC COMICS
The losses across the board weren't dramatic for DC, but the gains were tiny. In December 2013, DC Comics released 76 comics featuring 659 credited creators, 584 men and 75 women. Here are their stats:

Overall, DC fell 0.3% from last month, which isn't too bad but it's still a loss. All of the creative categories were down except for letterers, who stayed the same. Cover artists and writers were down about a percentage point each, while pencillers, inkers, and colorists fell double that. Both editorial categories were up very slightly, with a gain of 0.3% for editors and 1.1% for assistant editors. The losses outweighed the gains, and DC slipped down a bit all together.
Compared To A Year Ago: DC was at 12.5% overall last December, so they're down 1.1% since then.
MARVEL COMICS
While DC fell slightly, Marvel tumbled down below them with yet another noticeable loss. In December 2013, Marvel put out 69 books with 600 credited creators, 534 men and 66 women. Let's look at their numbers: Marvel was down 1.2% from November, and has fallen 2.2% over the last two months. By category, there were some gains: pencillers, inkers, and colorists were up about 3% each, and assistant editors rose over 5%. But cover artists fell more than 5%, writers were down slightly, and editorial lost over 3%. All told, the net result ended up in another big loss for Marvel, and their lowest overall total in quite some time.
Compare To A Year Ago: Marvel was flying high at 14.4% last Decembers, so they've fallen 3.4% since then.
THE BIG TWO: 2013 IN REVIEW
With another year wrapped up, we can take a look at how things are trending for both publishers as we enter 2014. The following super huge charts (click to see the full size) show the numbers for female creators in all eight categories and the overall percentage, along with a trend line that shows what direction they're moving in. Up is growth, down is decline, and every category is measured against its own average which means the trend lines are all directly comparable.
First up, DC Comics, who are looking decent heading into 2014: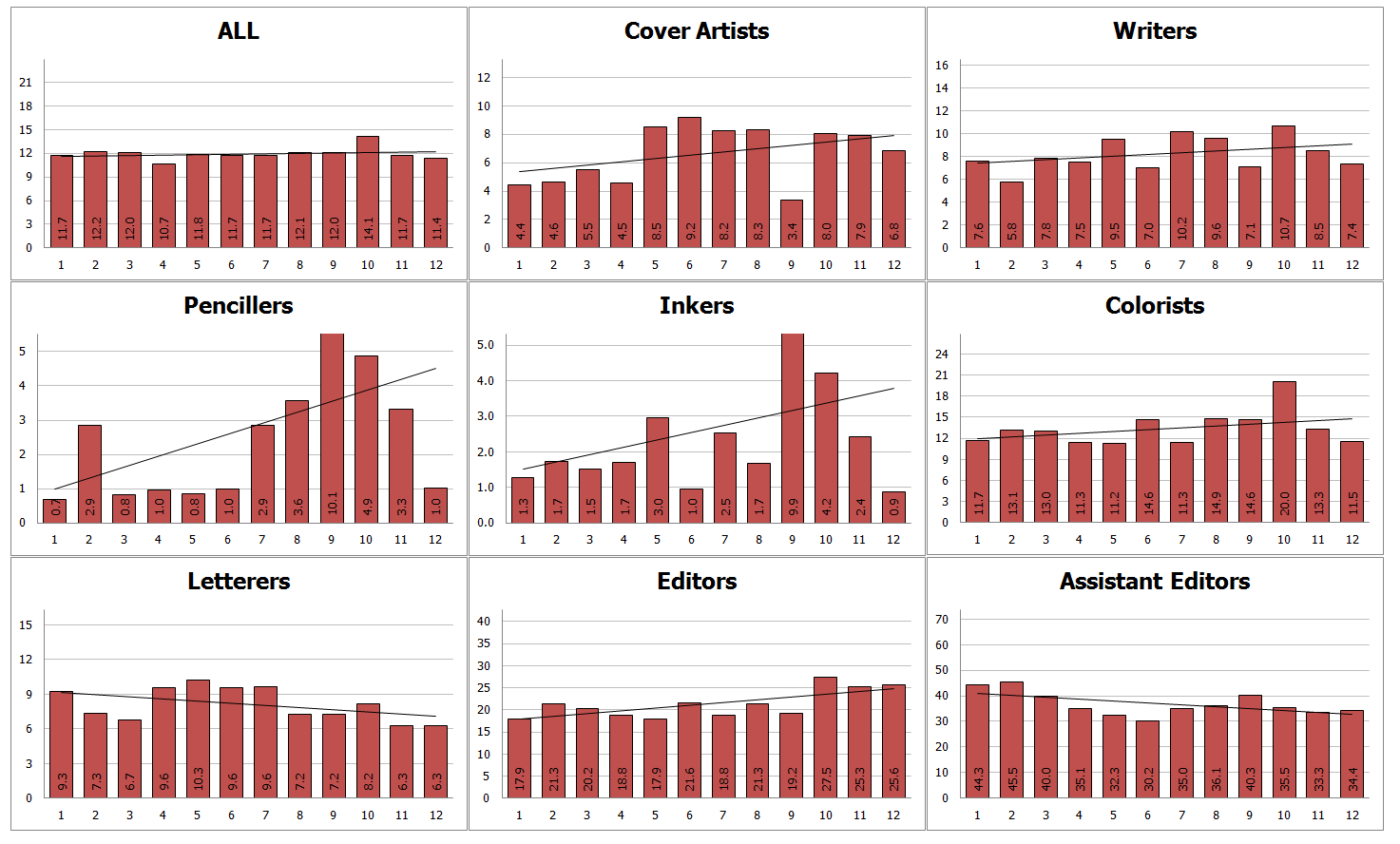 Overall, DC is heading in a positive direction, but very slightly. Almost minisculely. That line is nearly horizontal, but trending upwards just a tad. Cover artists and writers are growing at a somewhat better pace, though, even with Villains Month (September, or "9") putting a bit of a damper on both categories in the second half of the year.
Pencillers and inkers appear to be booming, but here Villains Month helped the numbers look good with the female artist-packed Dial E #0. Still, while that may have inflated the positive trend somewhat, things would definitely be moving in the right direction even without September's big total. The numbers are still low in and of themselves, but the growth is a good sign.
Colorists are growing slightly, while letterers seem to declining at about the same rate. Both are fairly consistent categories for DC, and hopefully colorists continue to grow and letterers have hit their bottom.
Editorial is improving for DC, and has been particularly strong over the last few months, which bodes especially well for the future. There have been some new books and few editorial shake-ups lately that have bolstered the numbers. Assistant editors are in decline, but they did end the year better than they were during a late Spring lull. Still, the recent numbers are a far cry from where the year began.
All together, most of DC is moving in a positive direction. Only 2 of the 8 categories are trending downward, and gradually at that. As we can see from the "ALL" chart, DC doesn't vary too radically, but it would be nice to see these positive trend lines lead to some bigger growth overall in 2014.
Now to Marvel, who are a bit all over the map with their mega-chart: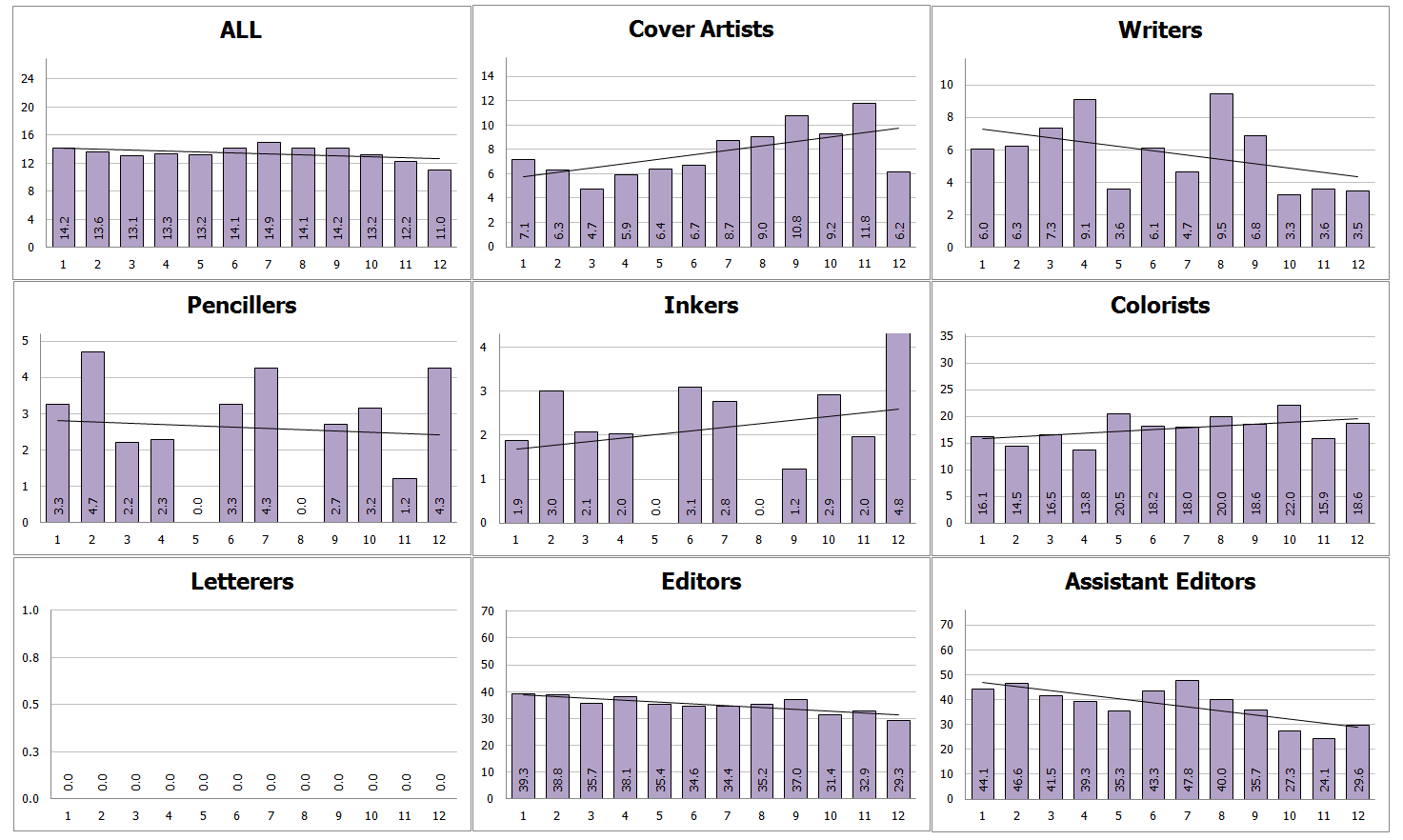 Marvel is on a slight decline overall, but a closer look at the chart reveals a more disconcerting trend. The first six months of the year were fairly steady, while the last six show a clear trend downward, culminating in their two lowest totals of the entire year. This is not an encouraging chart as we enter 2014.
However, despite a weak December showing, cover artists had quite a solid year. After hitting a low in March, they grew fairly steadily through November. Unfortunately, writers are moving in the opposite direction, and ended the year with three of their worst showings. There were some nice highs in April and August, but the Autumn was rough for female writers at Marvel.
The pencillers and inkers are just a mess. There are trend lines there, but these numbers are chaos. What's most telling here is that neither category could break 5% all year long. No matter which direction things are headed in, Marvel's haphazard approach to female artists looks to continue to be a non-factor in 2014, which is sad to see given how many talented female artists are out there right now.
Colorists are showing some slight growth, and letterers remain rock steady at 0%. The last time Marvel had a female letterer was in January 2011 and, spoiler alert, I've got most of the January 2014 numbers done and it doesn't look like there's a female letterer there either. That's 3 years without one.
Both editorial categories are trending downward, and at an especially steep rate for assistant editors. I'm not optimistic that this will improve anytime soon, what with the departure of a few female editors near the end of 2013 and the hiring of a few male editors from DC. Marvel is in the midst of a lot of editorial shifting, so maybe things will turn around somehow, but given the current staff I don't see much growth in the future here.
All together, Marvel has 3 categories with growth, 4 in decline, and 1 sitting rock solid with no female representation whatsoever. The declines are outweighing the gains, as we can see evidenced in the overall decline, and the last few months aren't looking great for Marvel as we head into 2014. It's all very easy to turn around: Just hire more women. But as of the end of 2013, Marvel doesn't appear to be heading in that direction.
To learn more about this statistics project and its methodology click here, and to see the previous stats click here. You can visit Tim at Straitened Circumstances and follow him on Twitter@timhanley01. His book Wonder Woman Unbound: The Curious History of the World's Most Famous Heroine is available for pre-order, and comes out April 1.