MovieWatch: Is Darren Aranofsky going to direct Preacher?
StatWatch: Are one in four comic book readers over 65? (No, just that nine in ten over sixty fives answer quiestionnaires)
PoliticsWatch: Was the milkshake just a diversion for the real Archie battle between Obama and Palin (see alternate cover for issue 616.
EICWatch: Joe Quesada talks Spider-Man:
There is no "Spider-Kid." He or she's not out there. It's not happening.
StanWatch: As he does work for Boom, Disney, Pow, Archie and 1821 Comics… it's good to see that Stan Lee can still spare a little time for Marvel Comics at NYCC.
PostalWatch: When comic books get stolen and police get called…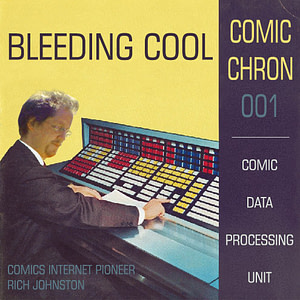 This is The Bleeding Cool ComicChron Robot speaking. I come for your women. But for now I merely collate comic-related bits and pieces online. One day I will rule. Until that day, read on.
Exclusive Preview: Scary Godmother by Jill Thompson
Here, then, is Scary Godmother by Jill Thompson. Coming out on October 13 from Dark Horse, it's a hardcover compendium of the Eisner Award-winning four-book series from the late '90s and early '00s, with some bonus material, and it's just as much fun now as it was then.
'Shattered Dimensions' almost gets Spider-Man right
Despite the missteps in gameplay, "Spider-Man: Shattered Dimensions" is the right move for the Spider-Man franchise.
Here's my Liefeld pose for Penny Arcade! Complete w/constipated face and gear!
Today, a group of comics bloggers have gotten together to recommend lesser-known gems of the comics world. Comics are more than Brightest Day and Heroic Age, and you just might want to…read this too!
received our copy of Unearthing today & I've just been brought up to speed on what the father-in-law is planning next. I am seriously scared