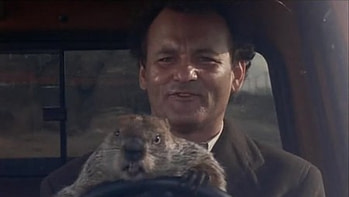 I find it somewhat bittersweet, with bitter outweighing the sweet, to note that Groundhog Day is on sale right now.
Amazon have the 15th anniversary, region free Blu-ray for sale at just $5.99. This disc contains not only Harold Ramis' commentary track but a couple of great supplements and interviews that will genuinely enhance your appreciation of the film, including a basic overview piece that manages to cram an awful lot into 20-some minutes.
It takes real masters to embody such complex observations on the human condition in something that's as fun as Groundhog Day. Ramis and his co-screenwriter Danny Rubin really did make a masterpiece here.
The Amazon link above will see a small percentage of credit paid to me for every copy sold. If you would rather not, given the circumstances, then please open Amazon and purchase the film without using my link. But, please, do let me recommend this disc strongly. It's one of the pillars of my collection.