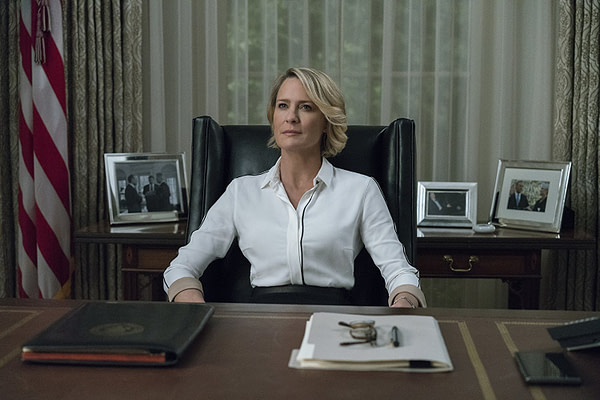 For Netflix's House of Cards, it's the beginning of the end – and now that ending has a beginning. Set for release on Friday, November 2nd, the sixth and final season of the political thriller finds Robin Wright returning as President of the United States following Kevin Spacey's firing from the series after multiple allegations of sexual misconduct. As we can see from the image released – depicting Wright's Claire Underwood sitting upon a marble throne, her bloody right hand gripping the arm rest as blood flows down the chair – it doesn't look like everyone is going to make it out alive:
The Final Season. November 2. #MyTurn pic.twitter.com/vGRFlbfcyG

— House of Cards (@HouseofCards) August 7, 2018
Wright also released the news, reminding fans on Instagram that they have a "date" on November 2nd:
Today's posts come after a number of earlier tweets teasing the show's return and Wright's role:
A message from the President of the United States. pic.twitter.com/yx0P3qyHfW

— House of Cards (@HouseofCards) July 4, 2018
We're just getting started. pic.twitter.com/h2XafRynew

— House of Cards (@HouseofCards) March 5, 2018
Faced with a series of escalating scandals, the previous season of House of Cards ended with Spacey's Frank Underwood stepping down as President of the United States, with wife/Vice-President Claire assuming the desk in The Oval Office. Wright and Spacey were both expected to appear this season to wrap up the series' run, but multiple accusations of sexual misconduct that surfaced against Spacey last fall resulted in Netflix indefinitely suspending further production on the drama. As more information came to light and after and internal investigation, the streaming service fired Spacey but also restarted production on what was decided would be House of Cards' final season.
During Netflix's session at the July 2018 Television Critics Association (TCA) press day, Netflix's Vice President of Original Series Cindy Holland addressed the series coming to an end and why now's the time for that to happen: "It's a fitting end. We had always planned for season six to be the final season. I'm very proud of what Robin [Wright did]."