Thought bubbles have fallen out of favour in comic books over the last couple of decades. Instead, their role has been taken by the internal monologue caption, if at all. Indeed, when they popped up recently in one of two comics, it was still a surprise, and the self-aware comic Gwenpool Strikes Back had a lot of fun with them.

But how small is that line of bubbles? Jim Shooter may not have approved. October's MCM London Comic Con had Jim Shooter as a guest, and at his table were a number of folders, binders, full of memos, sketches, artwork from his long career at DC, Marvel, Valiant and more. He graciously allowed Bleeding Cool to take shots of a few of them, but these are just the tip of the iceberg of the folders he often brings to shows. Bleeding Cool has been sharing a few of them since, and you can check the rest with this handy dandy tag.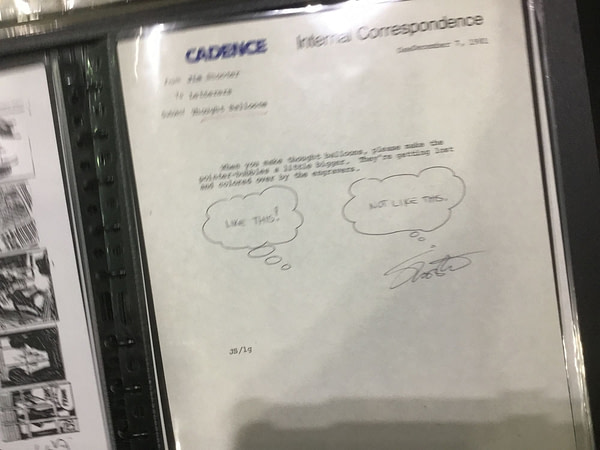 Apologies for the blurriness but that memo to Marvel editors in the eighties reads,
When you make thought bubbles, please make the pointer-bubbles a little bigger. They're getting lost and colored over by the engravers.
Which speaks to poorer production values forty years ago… with current printing and colouring techniques, it's no longer a problem. Maybe that's a justification to bring the thought bubbles back?