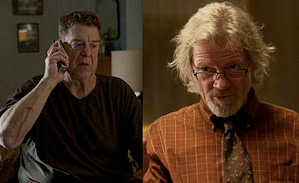 Tonight's the night of the Red State premiere at Sundance, and following the screening, Kevin Smith will be holding a live, public auction in the auditorium, for the rights to distribute the film. I wish him the best of luck with this because, though I don't expect it will, there's a real risk that everything could go wrong. The audience could, possibly, not take to the film at all and the distributors might either fail to turn up in the first place or simply reject this "razzle-dazzle" way of doing business.
As you might expect, excitement is running high with Smith, and his Twitter feed is bubbling away nicely. Surprsingly, though, he's not just stoking excitement for Red State, but also for his next picture, the Warren Zevon-inspired Ice Hockey movie, Hit Somebody.
We already know some of the casting for the film – Kyle Gallner is to pop up, late on, as a Wayne Gretzky-like character, and Nicholas Braun is to play the protagonist, aspiring Hockey player Buddy McCracken. They're both Red State alums, and it now seems like this will be true of an awful a lot of the cast. Smith tweeted the following statement and image:
For those who can't be at the Red State debut tonight, I offer just a taste of the final reel: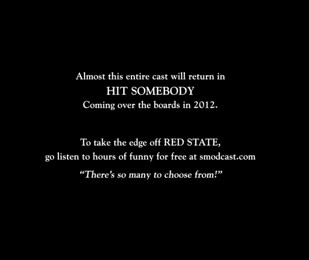 For anybody using text type (and, you know, search engines and so on) the key bit says:
Almost this entire cast will return in Hit Somebody. Coming across the boards in 2012
In a rather non-specific way, Smith has just revealed the casting of, I'd imagine, the vast majority of roles in the film. But how about a little specificity? Well, he topped up his answer via Tweet and addressed the involvement of some of individual actors:
Michael Parks will be playing"the French Canadian coach of Buddy's first pro team"
If John Goodman will, as he puts it, have him again, he'll "be playing Blue Jay Jennings – Buddy's first coach"
Melissa Leo will have a role if "she's not too tired from double-fisting awards all year, GOD YES!"
Sounds like Parks has signed up and the others have not – though that's not at all confirmed, of course.
Smith has said that production should take place in the autumn after Dave Klein, his preferred DoP, has finished production on the current season of True Blood.
Expect a lot more noise from the Red State publicity circus in the next 24 hours or so…