A regular look at projects on Kickstarter and Indiegogo being funded by you, but still in need of cash. Do let us know who, if any, you choose to support.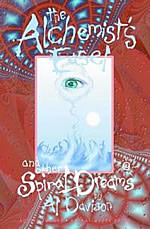 Title: The Alchemist's Easel
Creator: Al Davison
Funding for: We want to produce a limited edition collectors item. 200 hardback copies with a quarter cloth spine, cover litho printed with vegetable oil based ink, interiors printed in high quality digital, in a an outsized format 31cm x 22cm printed by Calverts containing an original black and white drawing in each copy and priced at $49.00 All the proceeds of the limited edition will then used to print an affordable trade paperback edition
Fund details: $1,585 of $6,498, 49 days to go
Best reward: $50 – You get an original 29.7cm x 21cm ink drawing, plus a signed copy of the limited edition.
Pitch: One morning in 1988 I woke up to find I'd gone blind. At the time I had no idea that it was temporary. I just knew that along with the blindness I was losing my visual memory, the ability to visualize my family's faces, even simple shapes, and that the partial paralysis I'd had as a result of being born with Spina-Bifida had returned.
I was blind for three months on two occasions that year. My reaction to my visual memory fading was to continue to draw, even though I had no idea if the pen contained ink or whether the paper was blank or not. When my sight returned I began to analyze the drawings I'd produced, and what I'd leaned about tapping into the unconscious, perception, dreams, and drawing. I have been teaching art based on that knowledge for over twenty years.
Now seems like a good time to put all that on paper. But a typical 'how to draw' book doesn't seem appropriate, given the subject. Utilizing the techniques I have discovered to create the book is the only way to go. I've ended up with part autobiography part 'how to draw' and part dream showcase. I've taught everyone from school children to senior art students, from dream researchers to teenagers at risk and abuse survivors. I hope this book will allow me to continue reaching more and more people.
[youtube]http://www.youtube.com/watch?v=AzHQvkw0qe8[/youtube]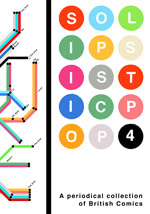 Title: Solipsistic Pop 4: Maps
Creators: Takayo Akiyama / Kristyna Baczynski / Dan Berry / Joe Blann / Stephen Collins / Rob Davis, Paul Harrison Davis / Joe Decie / John Cei Douglas / Oliver East / Nick Edwards / Marc Ellerby / Paul Francis, Katie Green / Isabel Greenberg / Howard Hardiman / Ste Hitchen / Anne Holiday / Tom Humberstone / Joe List / Lizz Lunney / John Miers / Kathryn Newman / Luke Pearson / Philippa Rice / Jenny Robins / Edward Ross / Alison Sampson / Anna Saunders / Matthew Sheret
Funding for: printing
Fund details: $2,740 of $8,500 with 57 days left
Best reward: $33 – Receive a copy of Solipsistic Pop 4 before anyone else and a free guestlist pass to the launch party and exhibition in London (plus a signed, exclusive postcard and badge). Non-London contributions will receive a randomly selected additional zine/comic/print from a Solipsistic Pop artist
Pitch: 80 pages, 30 artists, a larger print-run of 1,000, and extensive interactive material that makes full use of the joy of the printed artefact. This will be the first volume of Solipsistic Pop to come with an ISBN to allow schools, libraries, colleges and bookstores to order copies. There will be a book launch in London in early November featuring live bands and performances, with a wider launch taking place at Leeds Thought Bubble later that month. Additionally, an exhibition of original artwork from the book will begin in December.
Each copy ordered online will receive the book in a specially designed envelope in keeping with the Maps theme. A large folder designed by John Miers will house the book and additional elements – including a series of postcards that have been specially printed to encourage the reader to travel with their comics. Glow in the dark printing and seeded papers will be used along with state-of-the-art screenprinting techniques. A wraparound book cover by Stephen Collins will be protected by a large A2 poster/dustjacket designed by Katie Green.
[youtube]http://www.youtube.com/watch?v=ZPAlypQp95U[/youtube]
Title: Heavenfire
Creators: Christopher Hanchey, Glenn Arseneau, Kel Nuttall, Ivan Plascencia
Funding for: Production of artwork.
Fund details: $5 of $5,000, 59 days to go.
Best reward: $25 – signed issues 1, 2, 3 and print.
Pitch: Imagine a planet 10 times the size of our Earth, populated with Androsaurs. Giant Behemoths that continued to evolve over Millions of years to develop into a civilization, with Technological advancements on par with medieval Europe or Ancient Rome. Shielded from impact events by its neighboring Planet, A giant Jupiter 16 times the size of our own Gas Giant. These Dinosaur Men Are locked in a planet wide civil war. It is a journey into a World that will boggle the imagination!
Title: Adam Talley's Artbook
Creator: Adam Talley
Funding for: Printing
Fund details: $185 of $800, 1 day to go
Best reward: $30 – A thank you plug and a copy of the book
Pitch: I am a eighteen year veteran of comics and I decided its time to celebrate that by putting together the end all be all of artbook collections. The working title is "CAPTAINS LOG: A CELEBRATION OF THE WORK OF ADAM TALLEY." This book will be in full color, over 200 pages long. It will feature early work, demos, sketches, newspaper articles, college work, paintings, thumbnails, process work (Thumbs to pencils, Inks, Coloring), new and old favorite pieces, the history of me and my work, personal photos from my archive, studio tour, a close look and commentary on my various comic book properties I have done throughout the years, a look at what is coming up for 2012 and beyond and much more!
I want this book to be a complete celebration of the hard work my fans and I have put into my journey through this great life of artworking and making comics come to life. I want to make the best book possible that represents me and my past for all time. This will be a book I will constantly have with me at every future appearance I do from this point forward.   The funding I receive from the generous pledges will go to funding this book as well as promotion of the book. I hope to buy adspace on some indie friendly websites as well as pursue media relations to help promote the book.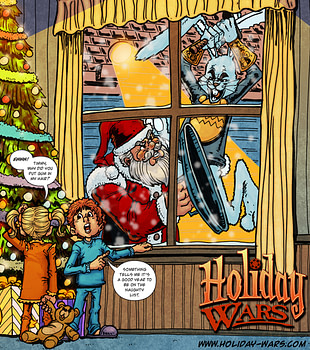 Title: Holiday Wars
Creator: Scott King
Funding for: Printing and shipping the webcomic as a 240 page graphic novel.
Fund details: $1209 of $6610 with 51 days to go.
Best reward: $25 – signed copy of the graphic novel
Pitch: Holiday Wars is the story of Tegan Cassidy, a human girl who is sucked into a sixteen year war between personified Holidays. She and a rag tag group of rebels are on a quest to find The Holiday Spirit, the only thing that can stop the war and defeat The Easter Bunny.
At first glance, Holiday Wars has an 80's cartoon vibe, but at its' heart it is character centric with a light dash of humor and teen angst. The project is hoping to raise  which will cover the printing and shipping cost of a full color book.
"We aren't trying to make a profit on Kickstarter," King said. "I'm not one of those creators who secretly hopes to bring $10,000 or $15,000. We don't have a 'high goal' or 'low goal.' We just have one goal: to print our book so we can share it with our fans."
Title: Untold Tales Of The Comics Industry
Creator: Brandon Jerwa
Funding for: filming trips to New York City, Los Angeles and Portland, Oregon
Fund details: $4,977 of $18,000, 9 days to go
Best reward: $50 – signed DVD
Pitch: This documentary takes a look at the comic industry from the inside out, guided by writers, illustrators, editors, distributors, Hollywood storytellers, and global fans of the art form. You'll see the genesis of our shared love of comics, and explore the inspirations that keep creators running. You'll learn what these creators love about the industry today, and what they hope to see improved for the industry's survival tomorrow. No topic is off the table: economics, fan culture, the industry's need to open its ranks to include a wider range of race and gender – it's all discussed. This film isn't a tell-all in the scandalous sense, but it IS full of honest stories and opinions offered up by the people behind the pages.
Title: Foreign Matter
Creator: Martin John and German Ponce
Funding for: Production of fifth and final issue
Fund details: $30 of $5,000 with 55 days to go
Best reward: $30 – Hardcover Journal
Pitch: Two years ago I decided to chase my dreams and start writing for real. A script that I wrote for an idea that my brother and I came up with thirteen years ago has shaped up in a way that I had never thought it would. I thought I would pitch it, aiming for an indie publisher, and decided to hire an artist in order to make that pitch a reality. I would have five pages of artwork based on my script. I went to digital webbing and out of all the applicants there was one wonderful artist named German Ponce that replied in a prompt and efficient manner. German did all the character designs for Foreign Matter in no time whatsoever, we had started our comic adventures together.
Through research into the industry and having my brain rattled by talking to professionals on message boards I was told that no one would want to buy my superhero comic book, as Marvel and DC comics were doing the genre and doing it better than I ever would. I was also told that my comic would never see print, would never get on a comic stand, and it would be better to find a way to present in online. Cue, http://www.foreignmattercomic.com, and me hiring German on a regular basis in order to finish the twelve issues of our comic.
We have found a publisher in What The Flux Comics. We have produced four full issues of comic and are into the beginning of the fifth. You can help fund our dream and make great comics with us. Or you can spread the word about our cause to others in order to help. We are the little indie that could, Foreign Matter.
[youtube]http://www.youtube.com/watch?v=uoogUoEqRP0[/youtube]