By Michele Brittany, West Coast Bleeding Cool Correspondent
One of the con crowd favorites is the annual Long Beach Comic Expo (LBCE) held each Spring. Originally a one-day event held at the Long Beach Convention Center, last year the expo expanded successfully to two-days. I think what this con really has going for it is its commitment to comics with a huge artist alley that attracts big names and local talent. LBCE tickets are reasonably priced for a family to attend, plenty of parking, and lots of eateries. In addition, the convention center is centrally located in downtown.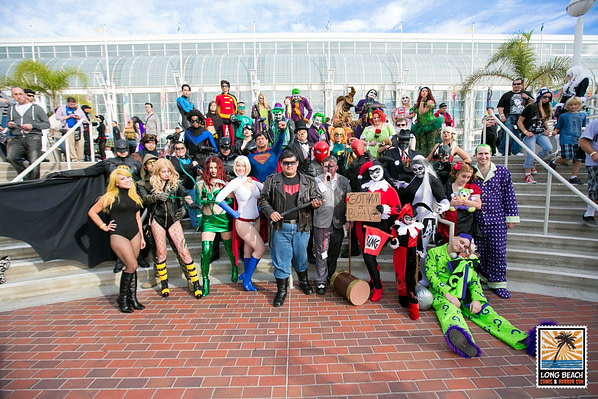 I've attended LBCE and Long Beach Comic Con, the organization's bigger con in the autumn, several times since moving to Southern California. I love that it is a big event with still a small town friendly feel. I caught up with Executive Director of Long Beach Comic Con & Expo Martha Donato, who always has a smile on her face and for being the executive director, at these events, she is truly out on the floor, greeting and talking with attendees. How many con officials do that?
Michele Brittany: Martha, you have been leading the Long Beach Comic Expo since its inception. Can you talk about how the expo came into existence and what the first year was like, back when it was a one-day show? Martha Donato: We initially created the one day Expo to help promote the fall show. That first show was so small and intimate. We were in a small ballroom at the Long Beach Convention Center and it only took about 30 minutes to see the whole show. But people stayed and chatted and read comic books – it was relaxed and so friendly. We really enjoyed it and so did the fans. But there were some structural issues with the space we used, especially for exhibitors as we didn't have a loading dock. We'd been outgrowing the space, so we made some improvements.
The first change we made was that last year we added a second day, which was well received and had great energy. This year, the Expo will be held on February 28 and March 1, and we're moving into a different part of the convention center to give the show room to breathe and continue to grow. We're going to a full exhibit hall for the Expo, which represents a major shift for us and lets us fully develop the show. We'll have 60+ panels and sessions running and will have a 75,000 square foot exhibit hall. We've announced a number of creators like Chris Claremont, Terry and Rachel Dodson, Brian Wood, who are all making their first appearance at a Long Beach show, as well as people like Greg Weisman, Sandy King Carpenter and Stan Sakai who are returning guests and a big part of the community we've been building.
With our move to the end of February, we feel like it's an awesome way to kick off an increasingly busy year of comic cons in southern CA. We're coming off our most successful show with last September's Long Beach Comic Con.  And by the time we're done announcing our guests at the end of this month, fans will see a guest list that rivals any show we've done.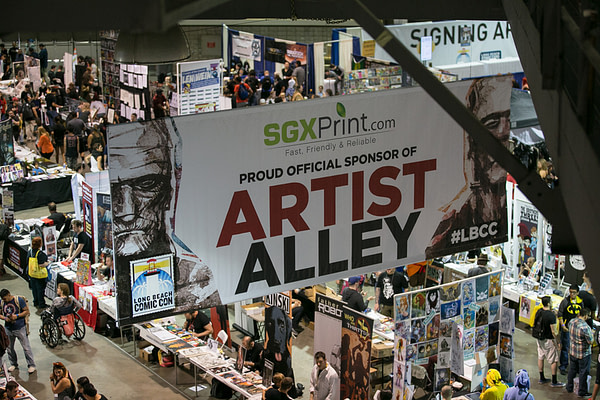 MB: Last year, the expo expanded to a two-day event. This year it was 50 Lifetime Passes, which I think is a revolutionary concept! How did that go? Do you think we'll be seeing more of that pass package in the future?
MD: The Lifetime passes was something we did for the Long Beach Comic Con in the beginning. It's been a great program for us (it was limited to 100 people) to build a core audience of "super fans." We decided to add it for the Expo, and it's been going really well. And lifetime passes are still available for the expo.
One of my favorite parts of running the Long Beach shows is when I get to stand at the bottom of the escalators and greet fans as they enter the exhibit hall. There are so many familiar faces, so many fans who have been part of the shows since the beginning! This program is designed to reward those fans who come year in and year out.
Will we see more packages like this in the future? Very possibly. We survey our attendees at every show and ask them if there's anything they'd like us to add, so we may have other new programs that come out of that process. MB: What's new for this year's expo that attendees will not want to miss?
MD: We're building on our terrific slate of animation panels and creating new panels for our #makecomics program, where aspiring creators can learn about the creative process firsthand from industry experts.
We have the Dwayne McDuffie Awards which is a really big deal not just for us, but for the comic book industry.
We have a kids programming area, designed for the 10 and under crowd, that we're incorporating from the fall show.
We'll hold our first ever Comic Expo Costume Contest. The comics and cosplay communities intermix really well in Long Beach. And the team here loves putting together shows that we know they'll enjoy.
The Expo has a fabulous guest list of comic creators including legendary creators like Art Adams and Marv Wolfman, as well as terrific cosplay guests like LeeAnna Vamp and Nicole Marie Jean. This coming week, we're going to announce a number of creators who are published by Image Comics and yet more Cosplay guests. We'll be announcing new guests on social media all month long. So stay tuned.
And here's something we haven't announced yet. We've added a film festival element, in partnership with Geek Film Festival. The Long Beach shows will become the exclusive Los Angeles area venue to host the full slate of programming for the world's first traveling film fest of geek films. It's a really exciting lineup of films, including the award-winning feature film Post Human Project, the short film The Visitant starring Doug Jones, the web series Caper Series, which was Executive Produced by Felicia Day, horror films, and fan films like Star Wars: The Holo Experience and Kirk vs Picard.
The Long Beach shows will always primarily be a show about comics, but the film festivals sits so well with our other programming. It's such an exciting addition to the show.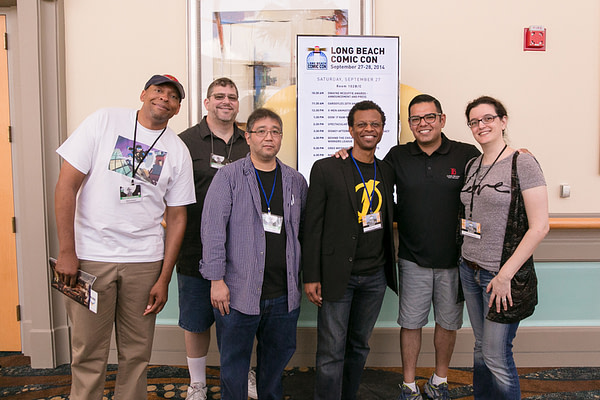 MB: Thank you so much Martha for your time! Please check LBCE's website for more details about the inaugural of the Dwayne McDuffie Award for Diversity scheduled for February 28th as well as the program for the #makecomics series. I attended a couple of the #makecomics panels last autumn that Martha mentioned, and I wish I could have attended all of them. The panel progression of this series starts at the beginning of the comic book process and takes you all the way through to completion. The panels are led by industry experts who are anxious to share their lessons and tips with attendees, so if you are interested in learning more about the industry, this series is a great way to get started.
To purchase tickets to Long Beach Comic Expo, check their website and for the latest news and information, follow LBCE on Facebook and Twitter. And, for more information on the GeekFest Film Fest, check their website, Facebook, and Twitter.
Michele Brittany is an independent popular culture scholar and semi-professional photographer and editor of James Bond and Popular Culture: Essays on the Influence of the Fictional Superspy (McFarland & Company). She regularly posts reviews and analysis on the spy/espionage genre on her blog, Spyfi & Superspies and can be followed at Twitter @mcbrittany2014.