In the controversial storyline One More Day, Spider-Man made a deal with Mephisto to erase his marriage in order to save his dying Aunt May. It's one of the most infamous storylines in all of Marvel history, but Marvel is bringing it back for one more issue… in Daredevil Annual #1?
It's not clear what this Daredevil story could have to do with the Spider-Man one, but based on the cover which shows Daredevil in boxing gear, we can assume it might have something to do with his father.
Check out the solicit below:
DAREDEVIL ANNUAL #1
CHIP ZDARSKY (W) • CHRIS SPROUSE (A) • Cover by CHIP ZDARSKY
VARIANT COVER BY DECLAN SHALVEY
ONE MORE DAY!
40 PGS./ONE-SHOT/Rated T+ …$4.99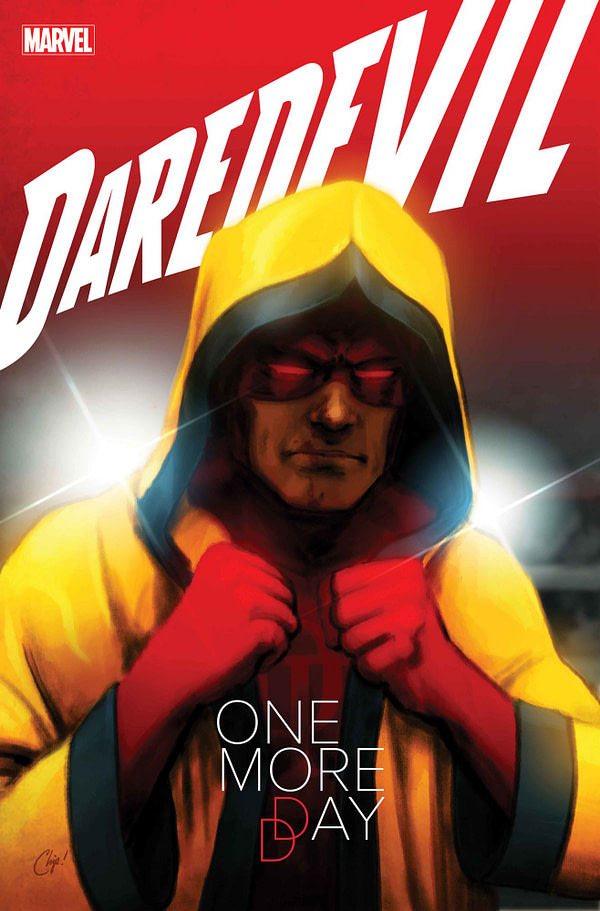 Then, in the regular issue of Daredevil, ol' hornhead finally puts his red tights back on.
DAREDEVIL #21
CHIP ZDARSKY (W) • MARCO CHECCHETTO (A/C)
DARK MARVEL VARIANT COVER BY TBA
BACK IN RED!  "TRUTH/DARE" STARTS HERE!
THE BATTLE MAY BE OVER, but the WAR is far from finished! After the shocking events of DAREDEVIL #20, CHIP ZDARSKY reunites with MARCO CHECCHETTO to begin the next chapter of their definitive DAREDEVIL saga: HELL AND BACK.
For weeks, Hell's Kitchen has been a lawless neighborhood thanks to the Stromwyn siblings, but as the police are finally able to resume their patrols, they're quick to find that they aren't the only ones interested in keeping the Kitchen safe.
Meanwhile, as Matt Murdock continues to struggle with how best to appease his sense of justice after the events of the past several weeks, a familiar enemy takes root in Hell's Kitchen…
32 PGS./Rated T+ …$3.99