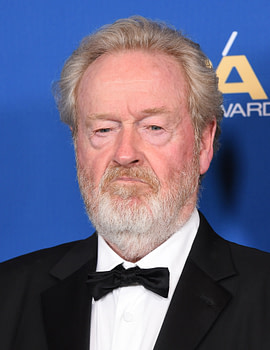 Ridley Scott has been unveiling some more some sequences from Prometheus to the press, and talking even further about his plans for the film, for its follow up, and for the Blade Runner spin-off he's working on.
You can read the whole, four-page Prometheus piece at The Hollywood Reporter, but be warned: there are spoilers. Or you can read on for the bits of sequel chat, alongside a little more from Damon Lindelof which gives us our first clues on how Prometheus 2 will fit into the Alien series' chronology.
Let's get the Blade Runner spin-off out of the way first.
Last we heard, Scott was "talking to" original Blade Runner scriptwriter Hampton Fancher about him picking up the pen for this follow-up. Now, THR simply say that Scott is:
developing a Blade Runner sequel, which the original's co-screenwriter, Hampton Fancher, is penning.
So, assuming this is verified info or something they learned from Scott, Fancher has gone beyond talking, and we might even suppose the film is a sequel, as opposed to a prequel.
In respect of Prometheus 2, the story places it in the context of Scott's other upcoming films:
Scott also is developing Gertrude Bell, about the British writer, adventurer and spy who teamed with T.E. Lawrence in then-Arabia — possibly starring Angelina Jolie — all while considering Prometheus 2, which he hopes will come next…
Next meaning after The Counselor, the Cormac McCarthy-penned thriller that is gearing up to shoot very soon.
But what would Prometheus 2 be? Doesn't Prometheus 1 bring us up quite close to Alien? A recent piece on Damon Lindelof in EW seems to have the answer. Here's Lindelof on his pitch to get the writing gig:
I look at it more like a story that is running parallel to the original Alien, so that if there was a sequel to this movie, it would not be Alien, it would be Prometheus 2. And then Prometheus 2 is parallel to Aliens. And [I showed] here's how we could do that. And so I sent off that email and I got into my bed. I didn't sleep at all. And at 10 a.m. the next morning, my agent called me and said, 'Whatever it is you did, they liked it. Can you go in and meet now?'
And the rest is increasingly public history.
Lindelof has talked more about the long game and plans for another Prometheus just tonight. Here's a tweet he sent as part of a live chat:
.@patmc4fun If you like it and want more, there is TOTALLY a design for this story to continue in cool and unexpected ways.

— Prometheus (@PrometheusMovie) May 16, 2012
We're two weeks out from Prometheus landing. Or taking off. Something like that. Pick your own exciting metaphor. Excepting a box office flop, which would surprise me hugely, I guess we'll have another chapter to look forward to, and speculate wildly over, in the next couple-few years.
Sounds like my idea of fun. Bring it on, Scott.