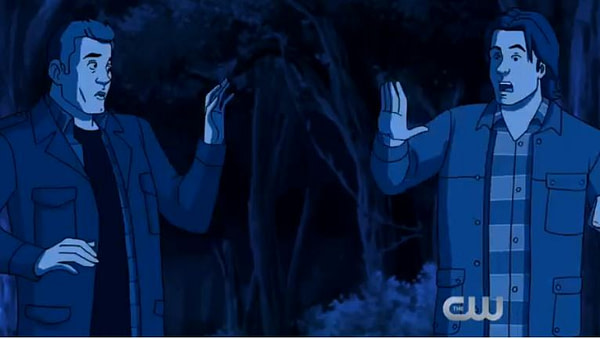 Following up on yesterday's release of first-look images from Supernatural's highly anticipated crossover with classic animated series Scooby-Doo, The CW has released the first teaser/trailer for season 13's 16th episode, 'Scoobynatural.' Although the preview doesn't give away too much about the episode, one thing's clear: Fred better step up his game and watch his back.
Though the episode is set to premiere on Thursday, March 29th, a lucky number of Supernatural fans in the Los Angeles, California, area on March 20th will be in for a very cool experience: this year's PaleyFest television festival is hosting a panel session for the long-running hit horror series that will include the episode's world premiere.
You can see the CW's teaser for Supernatural's 'Scoobynatural,' here and below:
https://youtu.be/IzHbUolAtrQ
Supernatural 13×16 'Scoobynatural': Jinkies! Supernatural gets animated when Sam, Dean and Castiel are transported into the world of Scooby-Doo – Sam (Jared Padalecki), Dean (Jensen Ackles) and Castiel (Misha Collins) are transported into the animated world of Scooby-Doo where they join forces with the Scooby gang to solve a ghostly mystery.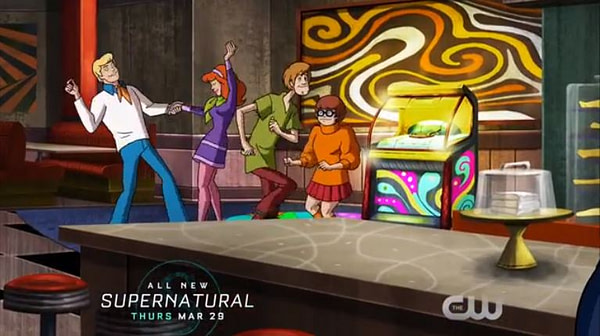 In an interview with Entertainment Weekly, showrunners Robert Singer and Andrew Dabb offered fans a few more teases of what to expect from the episode:
●  After going two-out-of-three falls with a stuffed dinosaur, a grateful pawnshop owner (faint smell of Friday the 13th: the TV Series here) offers the guys a free television as thanks. Sam's (Jared Padalecki) hesitant, but Dean's (Jensen Ackles) never one to turn down a potential addition to the "Dean Cave." Bad move, because the Winchesters find themselves transported into a Scooby-Doo cartoon.
"Once they get over their amazement at being in the cartoon, two things happen. They say, 'We've been in a situation like this before with the Trickster and I think we're supposed to play this out.' And then they realize they're in a Scooby-Doo cartoon, which makes Dean incredibly excited because Scooby-Doo was his favorite cartoon growing up." – Singer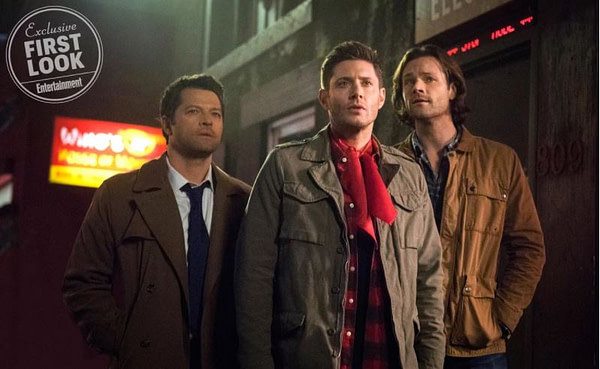 ●  The episode that the guys find themselves in? 'A Night of Fright Is No Delight', from 1970's Scooby-Doo, Where Are You?!?. One big difference: with Sam and Dean there, the "episode" begins to take on a Supernatural-level of danger; and Dean's "Scooby-Doo IQ" might just save their lives. "They walk into an old episode of Scooby-Doo, but it may end up being a new episode of Supernatural," explains Dabb.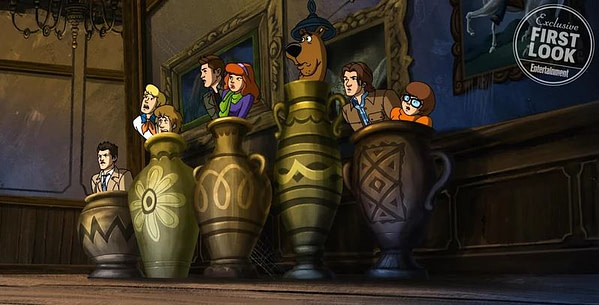 ●  Having an extensive knowledge of Scooby-Doo also means that Dean has some very "interesting" takes on Scooby, Shaggy and Velma — but saves the best for the ascot-wearer and his "girlfriend": "Dean came of age in a time before the internet when Daphne wasn't so bad," Dabb says. "Dean has very strong opinions on all the Scooby characters, but especially Daphne and Fred."