By Christopher Helton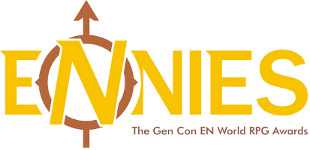 Early Monday morning, the blog at the ENnies website announced this year's ENnie Award nominees. The list is long, and there are a lot of good name and great games to be found on the list. Instead of listing all of them, I am going to go over the highlights.

The Judges' Spotlight Awards go to games that weren't submitted, or somehow otherwise missed out, that the judges felt otherwise still deserved recognition. The Spotlight Award winners are:
Hooper: Hobomancer Companion – Hex Games
Kayra Keri Kupcu: Deep Magic – Kobold Press
Stacy Muth: Rocket Age RPG – Cubicle 7 Entertainment
Jakub Nowosad: The Demolished Ones – Chronicle City/Rite Publishing
Kurt Wiegel: Weird Wars Rome – Pinnacle Entertainment Group
The only one of these that I am familiar with is Kobold Press' Deep Magic. A supplement for the Pathfinder RPG, Deep Magic is a huge compendium of spells and magical abilities for your Pathfinder games. Even though I don't play Pathfinder myself, the supplement has a great deal of utility for any GM who wants to add interesting magic to their campaigns. It is a great supplement, if you love magic in your fantasy games, even if you aren't using it for Pathfinder.
Rocket Age is a game inspired by movie serials and the Gold Age of Science Fiction, powered by the Vortex System, the same rules that Cubicle 7 uses for their popular Doctor Who and Primeval game lines.
Congratulations to all of the Spotlight winners.
The rest of the awards will be decided by vote from the general public. There are a lot of interesting games nominated this year. Numenera by Monte Cook Games is a rules light take on the science fantasy genre from one of the architects of Dungeons & Dragons' third edition. Electronic products Corporia and Shaintar: Legends Unleashed both look at old genre standards in new ways. Corporia is a game of Arthurian legend and corporate clashes in the modern world which just might appeal to fans of Matt Wagner's Mage or the classic Camelot 3000 comic. Fate Core is a game that I have enjoyed immensely, and is the foundation of our group's current campaign.

There are a lot of good people and good games that deserve to win an award.
There is also, among the nominations for Best Blog one that stands out from the rest of the blogs. Mostly because it is my Dorkland! blog. After ten years, I think it is nice to get some acknowledgement. We all know that "it is an honor to be nominated," but it is kick ass to actually win.
Voting on the nominees goes live on Sunday, July 20th and runs until July 30th. Once voting opens, get in there and vote early and often, and vote for your Bleeding Cool correspondents.
Christopher Helton is a blogger, podcaster and tabletop RPG publisher who talks about games and other forms of geekery at the long-running Dorkland! blog. He is also the co-publisher at the ENnie Award winning Battlefield Press, Inc.  You can find him on Twitter at @dorkland and on G+ at https://plus.google.com/+ChristopherHelton/ where he will talk your ear off about gaming and comics.
Christopher has a crowdfunding page to help raise money to defray the costs for going to the Gen Con gaming convention and cover it for his Dorkland! blog and Bleeding Cool. Please click here to go to the page and help out.