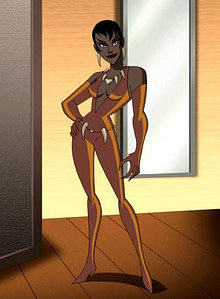 Seeing the success that Marvel has gained expanding their Avengers line, DC are planning two regular JLA titles.
I remember being a big fan of Justice League International and Justice League Europe when they were running. This sounds a little different though.
Well-known industry figures, confirm that Geoff Johns and Jim Lee will head up a new Justice League Of America #1. However it appears that they will get the Batman/Superman/Wonder Woman triumverate to themselves. For a bit.
Dan DiDio's plan is to use the League books to promote less well known characters in the DC Universe and reduce the roles of the traditional characters – including Superman, Batman and Wonder Woman. Vixen is expected to be the character DC will be using the JLA books to promote the most.
This situation has occurred repeatedly through the history of the title, and goes a little like this.
1 Justice League book stars Superman, Batman, Wonder Woman, Flash, Green Lantern, Aquaman, Martian Manhunter
2 Introduce minor characters
3 Remove Superman, Batman, Wonder Woman.
4 Introduce more minor characters
5 Remove Flash, Green Lantern and Aquaman, probably keep Martian Manhunter around, in order to promote other DC characters and maybe create some new franchises in the process.
6 Publish spinoff series from these minor characters in wake of their JLA prominence.
7 See sales eventually fall away
8 Cancel most of the spinoff series.
9 Have a creative revival and return to 1
10 Back to 1 with you.
I understand the character makeup of JLA is even more a focus for argument and flux than the creative teams have been of late…
And of course the new Johns/Lee JLA title can only actually start when Lee is finished with All Star Batman And Robin The Boy Wonder. Can you say a year or two? And a lot can change in that time…