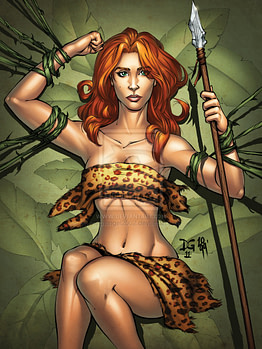 GrantMorrisonWatch: Grant will be speaking at Foyle's book store on Charing Cross Road in London on Tuesday, to launch his Supergods book. Tickets are free, but they must be applied for.
GenderCrunchingWatch: For the week of June 2nd, Marvel has 9.9% female creators, DC has 13.3% female creators.
NewYorkComicConWatch: Yes, apparently, there is a comic convention after San Diego, in another city. Who'd have thought it?
Anyway, artist Diana Greenhalgh is arranging a two day art sale to fund a trip to the show, after being accepted into their Artists Alley – but has to pay for the table ASAP, and needs $150 to make up the difference.
So have a browse of the 11×17 full colour, coverstock prints, limited edition promo card sets (sets of 4 pinup girl cards that debuted at ECCC 2011), and 9 artist proof cards from the upcoming Vampirella card set. Check it out here.
SignWatch: Jim Butcher, author of the Dresden Files, is to sign at Midtown Comics Downtown in New York tomorrow, from 4pm to 6pm.
LicenseWatch: Surge Licensing, Inc., the agency behind Teenage Mutant Ninja Turtles and Axe Cop have signed an " exclusive licensing and entertainment agreement with Swords and Sassery, Inc. to develop TV/film, video games, toys, apparel and other tie-ins for Skullkickers", the Image Comic by Jim Zubkavich and Chris Stevens.
ConWatch: The Florida Super Con runs from Friday to Monday, with John Livesay, Brad Walker, Jim Cheung, and Charlie Adlard guesting, among others.
This is Computo the Comic Link Conqueror speaking. I come for your women. But for now I merely collate comic-related bits and pieces online. One day I will rule. Until that day, read on.
They say I am a work in progress. The fools.
Stan Lee's New Venture Will Develop Superhero Films for Asia | The Wrap Movies
Panda Media Partners, a joint venture of Lee's POW! Entertaintment and Fidelis Entertainment, has joined the merger and acquisition boutique Ricco Capital Holdings to create Magic Storm Entertainment, which will develop and produce a new franchise of Lee's superheroes to appeal to Asian markets and broader global audiences.
Quote of the day | Grant Morrison on Watchmen 2 | Robot 6 @ Comic Book Resources – Covering Comic Book News and Entertainment
No, they asked me to do that, and I said, "Why would you want a sequel to Watchmen?" [Laughs] No, I mean, c'mon. Watchmen is actually perfect in its construction. I mean, not necessarily in other areas, obviously, but as a story it's complete, it's utterly circular, and there's absolutely no need for anything else in it.
Marvel Comics Explains Why They Reveal Spoilers in the Mainstream Media – ComicsAlliance | Comic book culture, news, humor, commentary, and reviews
We've seen huge results. We make sure to only attach this kind of promotion to our biggest books and those books invariably carry a much higher readership after the push than before the push.