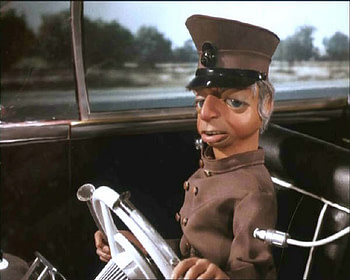 We're still a couple of years out from Thunderbirds Are Go! hitting our screens, which is just about time for the voice work to begin. ITV Studios have announced the cast for their new puppet-and-CG hybrid show, a remake of Gerry Anderson's Supermarionation classic, and perhaps the best bit of fan bait is the inclusion of David Graham, reprising the role of Parker. I was certainly happy to read that.
The new Lady Penelope will be Rosamund Pike, which is just how I'd guess the live-action casting would go if a movie were going into production today.
Brilliantly, Fonejacker and Four Lions' Kayvan Novak will be Brains, while the Tracy Brothers will be played Thomas Brodie-Sangster as both Gordon and John, Rasmus Hardiker as both Alan and Scott, and David Menkin as Virgil. Sandra Dickinson will be Grandma Tracy.
Meanwhile, Andres Williams will play The Hood, the thorn in International Rescue's side. A couple of new characters have also been announced to with Angel Coulby in as Kayo, who lives on Tracy Island, and Adjoa Andoh joining up as Colonel Casey.
As I understand it, Weta are building actual sets and vehicles for the show but the characters are going to be at least partially CG, courtesy of Richard Taylor's Pukeko Pictures. The exact blend of techniques is under wraps for now but I'm certainly intrigued.
It doesn't seem like Anderson's son Jamie Anderson is involved at all, but he's busy trying to keep dad's legacy alive in other ways, recently crowdfunding the Gemini Force One series of eBooks based on one of Anderson senior's unproduced concepts.
Maybe it will be an unpopular opinion, but I think Anderson's magic was all technical, and the appeal of Thunderbirds was mostly in its puppets and model sets. I hope Weta and Pukeko can offer something similarly entrancing with whatever odd means they're employing.