The Bleeding Cool Review: For A Good Time, Call…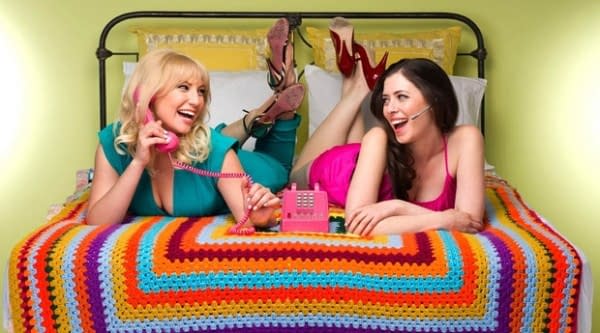 Linda Ge writes for Bleeding Cool.
It took the success of Bridesmaids to open the doors for all future bawdy female-centric comedies to follow. But for all its attempts at vulgar humor and endless wink-wink-nudge-nudge euphemisms, there's a heart beating beneath the surface of Sundance comedy For a Good Time, Call… and indeed, it's in in the charming and unabashedly earnest friendship/love story between its two main leads that the otherwise moderately funny film really shines.
In Jamie Travis' feature directorial debut, indie comedy queen Ari Graynor and co-star/co-writer Lauren Miller play a pair of polar opposites. Katie is blonde and brash, Lauren is brunette and reserved, and on top of their having absolutely nothing in common, the two are old college enemies after Katie dumped her own urine all over Lauren during one awful car ride home from a party. Yes, folks, this is the sort of humor we are in store for over the next 86 minutes. Financial hardship forces the now grown-up 20-somethings into becoming roommates by their mutual cliche gay best friend (Justin Long), and it's not long before Lauren finds herself lowering her standards and going into business with Katie – the phone sex hotline business. She resists getting on the line with the clients at first, sticking to running the business side of things, but a mildly amusing subplot involving an infiltrating bible-thumper (Sugar Lyn Beard) forces her hand.
While Katie teaches Lauren how to moan like a porn star and how to use 80 different adjectives for penis, the two girls begin to form a genuine bond, and one particularly funny moment comes during their first three-way call, when turning on their client – an amusing Seth Rogen cameo that's just one of several surprises – is forgotten as the two girls gaze into each other's eyes and describe, not how sexy they look, but what a good friend they've become to each other. Rogen is left unsatisfied, but it's a nice moment for the audience. And when Lauren gathers up the courage to tell Katie she loves her, it's as genuine and heartfelt – if not more so – as in any mainstream romantic comedy.
The love story between the girls is always at the forefront, even when Katie begins an unlikely romance with a frequent caller who turns out to be nice, funny, just her type and looks like Mark Webber. Oh, to live in the movies. Inevitably, Lauren and Katie's newfound BFF status is tested, and I don't want to give anything away, but it unfolds basically exactly like you would expect (the first commenter pretty much sums it up based on the trailer alone).
So crazy, outrageous sex comedy it is not. But predictability, mildly funny humor aside, For a Good Time, Call… is worth a watch on two fronts. It features two lead female characters who have great chemistry and whose genuine friendship is never threatened by a guy, and Miller shows promise as a multi-faceted talent, following in the footsteps of Zoe Kazan (Ruby Sparks) and Rashida Jones (Celeste and Jesse Forever), who are all helping to shape the indie rom com landscape this summer by not just starring in, but writing them as well.