Darth Sidious is returning into the collectible circuit once again I think it's to his upcoming appearance in Star Wars: The Rise of Skywalker. While we wait to see what kind of insidious plans he has cooked up for our heroes we can look at some new upcoming at collectibles coming soon. We first already got a look at the upcoming S.H. Figuarts Return of the Jedi Emperor set. Now we are getting a first look at an upcoming Sideshow Collectibles statue. We are only greeted with a single image but from the look of it, I can't wait to see more. It shows Emperor Sidious angrily shooting lightning in the sky with his devilish rope blowing in the wind. I'm sure we will be seeing a Sideshow Exclusive add onto this whether it's secondary head swap or a hand swap with him holding something like a lightsaber. The statue will definitely perfect for any Star Wars fan and we can only wait to see more of what the dark side has cooked up for us.
The Star Wars Mythos Darth Sidious Statue from Sideshow Collectibles does not have a price or release date just yet. More information will come out the Sideshow in the following weeks and I hope we get to see more soon as this statue will definitely fly off shelves as The Rise of Skywalker hits. You could join the RSVP notification for when the statue goes live and you could find that link located here. Don't forget to check out the upcoming Star Wars Legends Asajj Ventress statue also coming soon to a galaxy near you.
Unlimited POWER!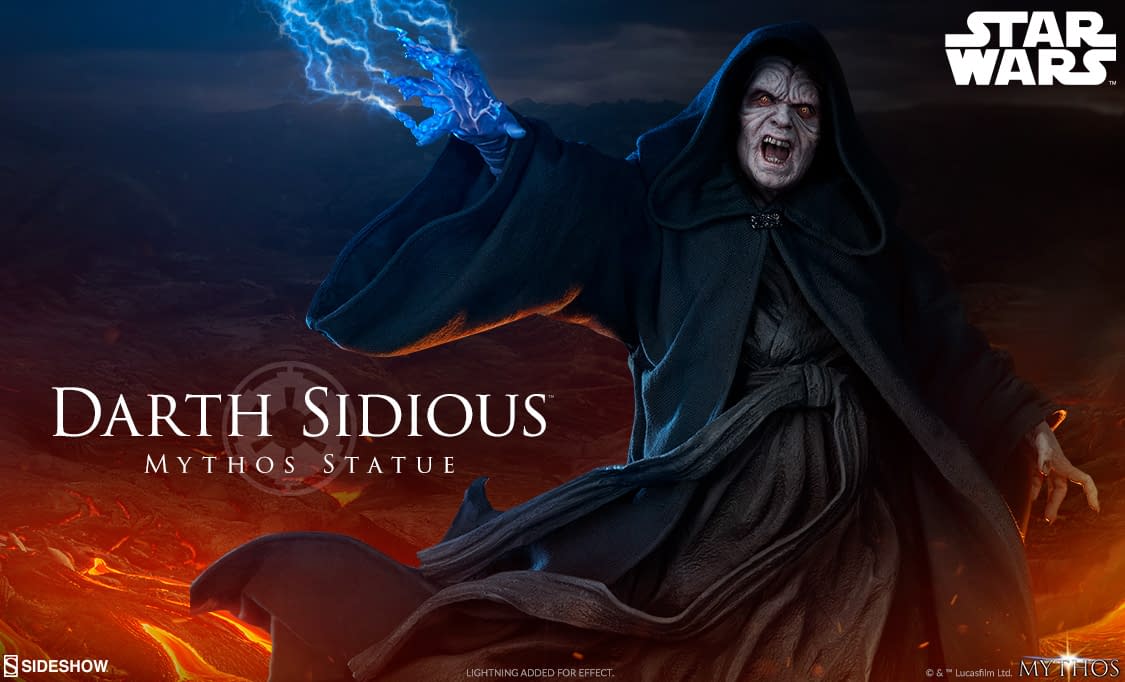 Sideshow presents the Darth Sidious™ Mythos Statue! This Star Wars themed piece will be available for pre-order in the near future. Be sure to RSVP for more updates in the meantime!
Enjoyed this article? Share it!