Hero Collector, Eaglemoss' imprint for genre collectables, is launching a new magazine-and-figurine collection based on Rick and Morty, the fourth season of which is out now in the US and which comes to the UK from November 20th on E4.
The following will be available direct from Eaglemoss or through comic book stores via Diamond Comic Distrubutors.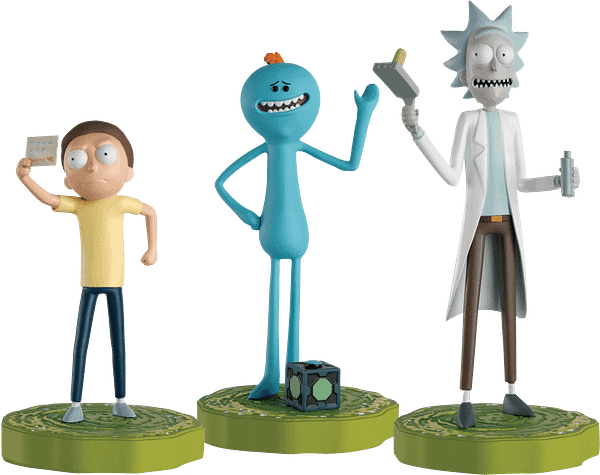 Each issue of this new Rick and Morty collection will showcase a different character from across the Rick and Morty multiverse, spotlighting their adventures in an in-depth magazine – and faithfully recreating their iconic design with a painted polyresin figurine at 1:16 scale (approximately 4.5-5 inches tall).
The collection is scheduled to launch in early 2020 and kicks off with three characters, each with their own magazine and a figurine stood atop a portal-themed display base:
Rick Sanchez, the foul-mouthed super-scientist with a heart of depleted uranium. The figurine is clad in Rick's signature labcoat, wielding a high-tech portal gun (and somewhat less advanced hip flask).
Morty Smith, Rick's high-in-stress, low-in-self-esteem grandson. The figurine brandishes a Morty Adventure Card, furiously invoking his right to choose one out of every ten adventures.
Mr. Meeseeks, the obnoxiously helpful homunculus. The figurine stands beside the Mr. Meeseeks Box that summoned it, cheerfully awaiting a request for help.
All three figurines made their debut earlier this year, at the WarnerMedia booth (D160) during October's Brand Licensing Europe at London's ExCeL Centre. But now it's official.
Here are the pretty visuals…
Enjoyed this article? Share it!