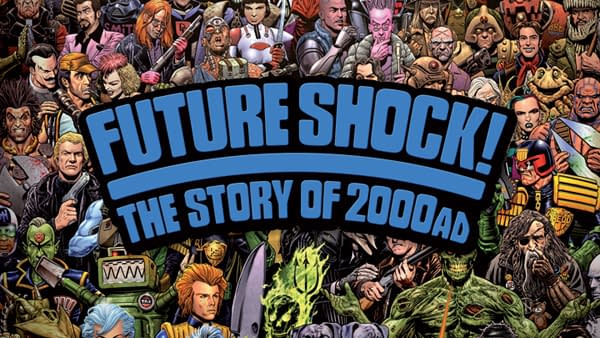 By Olly MacNamee
With the recent release of the warts and all documentary, Future Shock! The Story of 2000AD, documenting the history of the galaxy's greatest comic, I was able to sit in on the panel accompanying an exclusive screening at Birmingham's The MAC and listened in as Paul H Birch interviewed 2000ADalumni Phil Winslade, Ian Richardson and Ian Edginton, the latter creator appearing in the film himself. Here are some exerted highlights from the talk. (With apologies to Edginton for my dreadful phone not picking up on everything he had to say).
–

Paul H Birch: When did you guys get into 2000AD originally?
All in unison: Prog 1.
Phil Winslade: They talk about 2000AD being very 'punk' yet they called everything 'prog'. Maybe there was a secret Yes fan in editorial somewhere.
IE: I'd go round the corner at lunchtime, at the job I was working at the time, go to the newsagents, pick up 2000AD, have my dinner, read 2000AD. And I've not stopped buying it since, through fair weather and foul.

Ian Richardson: Yeah. I was 11 and I had started reading the Marvel reprints back then and remember the day it came out…
PW: British comics at the time were really dreadful at the time, all war comics. I remember when Warlord came out and that was a big thing. And then, 2000AD came out. One of the most exciting things for me about it was that it credited the talent behind the strips. Something I was used to from reading American comics.
IE: I never took to Dredd straight away. The strip I really liked was Dan Dare, with those double page colour spreads. He was like Bowie's Ziggy Stardust, with his shock of red hair…
PW: I didn't really get into it because at that time I was in love with all things Americana from reading the Marvel reprints as well as US comics too. We'd just been through Watergate, there was Evel Knievel on telly, there was the American Bi-centennial. Everything decent was American while we were revealing in Jim Callaghan and electricity cuts. You'd go into a newsagents in the UK and often there would a whole stack of US comics to pilfer through. They were all the titles that didn't sell well in America, so they were often the quirkier titles. So, when 2000AD came along, it wasn't too far removed from some of the stuff I was reading, like Howard The Duck.
PHB: 2000AD was itself quite Americanised wasn't it?
PW: Yeah, there was Harlem Heroes, Judge Dredd of course. Dredd didn't seem as popular as some of the earlier strips, to me, but it was a strip that just grew and grew. I remember on holiday once picking up a 2000AD and it had a Brian Bolland illustrated Judge Dredd and I knew I had to buy this comic!

PHB: It was Americanised, but it still had that typical British quirkiness to it.
PW: I think the reason 2000AD was so Americanised is because back in the 70s there was a glamour around all things American. This was pre-Reagan era America. The best TV show were all American, it seemed, Ironside, The Six Million Dollar Man…
IE: And we had things like, Love Thy Neighbour.
IR: Prior to 1977 and Star Wars, I would go to what was then called the Gaumont Cinema in the Birmingham city centre (gone now) to watch the old Flash Gordon serials from the 40s.
PW: Yep. The only sci-fi we got on British TV was whatever Jerry Anderson was producing and Dr Who.
IE: The influences of 2000AD are huge. You can trace so much back to 2000AD. And it's an enormous undertaking. It has; what 4 or 5 series a week, a new series starting every three months, and it still keeps on pushing boundaries.
PW: It's not as conservative as the American comics these days can be. What amazed me about working for 2000AD again recently ('Lawless' in the Judge Dredd Megazine) is the lack of editorial interference. There wasn't this sense that there was a big corporation looking over your shoulder.
IE: I do have American friends, comic book artists, who would love to work for 2000AD. They love the look of the larger page sizes. They love Dredd.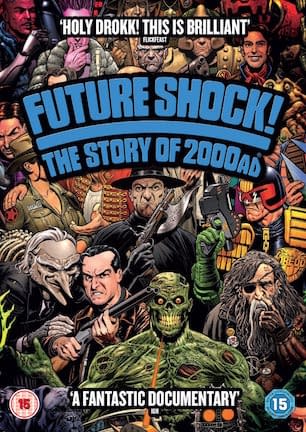 PHB: When you guys joined, it was at a time of expansion for 2000AD, with the launch of the Judge Dredd Megazine, back in the early 90s.
IE: When I started at 2000AD they were still working in an office that was little more than a damp basement with a little narrow window, making it quite dark. They'd just licensed action figures, but hadn't bothered trying to get them into shops like Toys R Us. These were beautiful action figures, but they didn't sell because they weren't in many shops.
PW: I do remember being dragged down the pub when you delivered your artwork. That would be an experience. Especially having to catch a train back to my parents' house and trying not to fall asleep.
IE: It's a lot better today at Rebellion whenever I go in and there is still the great freedom too, the lack of editorial interference.
PHB: Do you get paid for reprints these days under Rebellion?
IE: Oh yes. While you may not own the characters, Rebellion are very good, with reprint rates (here and in the US) and they won't let others use your characters before you. They may own the characters, but we get all the work on those properties. And, we're all free to work on other properties for other companies too. It can be very rewarding.
PHB: Ian (Richardson), does this sound like a company you would like to work for again from what you're hearing?
IR: It is, very much so. When I started working for 2000AD, it was at the end of the 90s and 2000AD wasn't in as good a place as it is now. Whenever I pick it up in the shops it is very inviting.
PHB: It sounds like 2000AD is in safe hands with Rebellion? How can it remain vibrant?
PW: It's doing pretty well as it is. There's a lot of content in there, and published weekly too. That's a pretty big feat to achieve each and every week, all year round. Plus, the 40 pages of content produced for the Megazine, don't forget. And, 2000AD is out there in the 'real world' when compared with other comics.
Enjoyed this article? Share it!