Advance Reorders: Batman Beats Man of Steel, but Only with Artgerm
Greetings from the coal face of the direct comics market. Where retailers try to increase their orders of certain comics ahead of sale. Where supply and demand and most accurately reflected, where you can see which books are hot, where new orders are coming in and how retailers are reacting to new, unanticipated desire! And courtesy of stats from Diamond Comic Distributors.
It's a good sign for Man of Steel that retailers have decided they like the comic and have been upping their orders on subsequent issues. But it still can't beat the appeal of a Stanley "Artgerm" Lau Batman cover. There are also boosts for Avengers and Amazing Spider-Man, and Justice League is getting a lot of attention as well.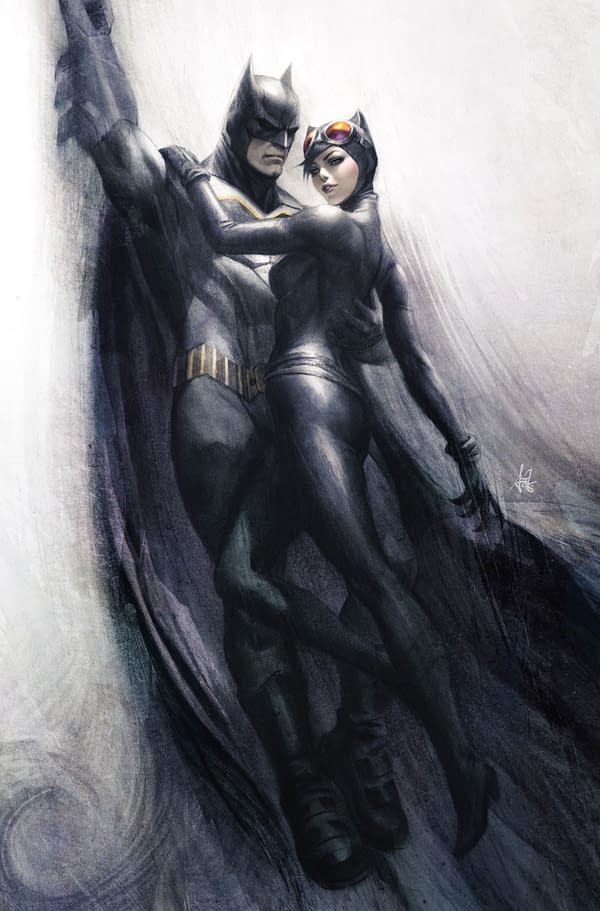 While over on the trade-heavy reorder list, it's Infinity War, Gauntlet, and plain Infinity all the way.
TOP 25 ADVANCE REORDER COMICS/GRAPHIC NOVELS/TPS
| | | |
| --- | --- | --- |
| Publication | Price | Publisher |
| BATMAN #49 VAR ED | $2.99 | DC COMICS |
| MAN OF STEEL #4 (OF 6) | $3.99 | DC COMICS |
| AVENGERS #3 | $3.99 | MARVEL COMICS |
| AMAZING SPIDER-MAN #801 | $3.99 | MARVEL COMICS |
| VENOM #1 2ND PTG STEGMAN VAR | $4.99 | MARVEL COMICS |
| BATMAN PRELUDE TO THE WEDDING RED HOOD VS ANARKY #1 | $3.99 | DC COMICS |
| JUSTICE LEAGUE #2 | $3.99 | DC COMICS |
| JUSTICE LEAGUE #2 VAR ED | $3.99 | DC COMICS |
| AVENGERS #2 2ND PTG MCGUINNESS VAR | $3.99 | MARVEL COMICS |
| ANALOG #1 C2E2 EXC VAR | $10.00 | IMAGE COMICS |
| X-MEN WEDDING SPECIAL #1 2ND PTG JS CAMPBELL VAR | $4.99 | MARVEL COMICS |
| SONIC THE HEDGEHOG #1 – 4 BOX SET | $24.99 | IDW PUBLISHING |
| DOMINO #2 2ND PTG LAND VAR | $3.99 | MARVEL COMICS |
| BATMAN #49 | $2.99 | DC COMICS |
| AQUAMAN #37 VAR ED | $3.99 | DC COMICS |
| AMAZING SPIDER-MAN #801 DAUTERMAN YOUNG GUNS VAR | $3.99 | MARVEL COMICS |
| DOCTOR STRANGE #2 | $3.99 | MARVEL COMICS |
| X-MEN GOLD #27 2ND PTG MARQUEZ VAR | $3.99 | MARVEL COMICS |
| HUNT FOR WOLVERINE CLAWS OF KILLER #1 (OF 4) 2ND PTG GUICE V | $3.99 | MARVEL COMICS |
| ANT-MAN AND THE WASP #2 (OF 5) | $3.99 | MARVEL COMICS |
| X-MEN GOLD #26 2ND PTG MARQUEZ VAR | $3.99 | MARVEL COMICS |
| RICK & MORTY PRESENTS KROMBOPULOUS MICHAEL #1 CVR A | $4.99 | ONI PRESS INC. |
| INFINITY COUNTDOWN BLACK WIDOW #1 DEL MUNDO YOUNG GUNS VAR | $4.99 | MARVEL COMICS |
| JUSTICE LEAGUE #2 JIM LEE PENCIL VAR | $3.99 | DC COMICS |
| MS MARVEL TP VOL 09 TEENAGE WASTELAND | $17.99 | MARVEL COMICS |
TOP 25 REORDER COMICS/GRAPHIC NOVELS/TPS
| | | |
| --- | --- | --- |
| Publication | Price | Publisher |
| INFINITY GAUNTLET TP | $24.99 | MARVEL COMICS |
| INFINITY WAR TP | $29.99 | MARVEL COMICS |
| INFINITY TP | $49.99 | MARVEL COMICS |
| RICANSTRUCTION REMINISCING & REBUILDING PUERTO RICO TP | $19.99 | SOMOS ARTE, LLC |
| JUSTICE LEAGUE NO JUSTICE #2 (OF 4) | $3.99 | DC COMICS |
| AVENGERS #2 | $3.99 | MARVEL COMICS |
| SAGA TP VOL 08 (MR) | $14.99 | IMAGE COMICS |
| MARVEL 1872 TP | $15.99 | MARVEL COMICS |
| ULTIMATE COMICS AVENGERS PREM HC BLADE VS AVENGERS | $24.99 | MARVEL COMICS |
| DARK DAYS THE ROAD TO METAL HC | $29.99 | DC COMICS |
| DEADPOOL BY DANIEL WAY COMPLETE COLL TP VOL 01 | $34.99 | MARVEL COMICS |
| JUSTICE LEAGUE NO JUSTICE #3 (OF 4) | $3.99 | DC COMICS |
| SILVER SURFER REBIRTH OF THANOS TP | $24.99 | MARVEL COMICS |
| AVENGERS VS THANOS TP | $34.99 | MARVEL COMICS |
| CIVIL WAR TP | $24.99 | MARVEL COMICS |
| HELLBOY LIBRARY HC VOL 04 CROOKED MAN | $49.99 | DARK HORSE COMICS |
| X-MEN WEDDING SPECIAL #1 | $4.99 | MARVEL COMICS |
| JUSTICE LEAGUE NO JUSTICE #1 (OF 4) | $3.99 | DC COMICS |
| STAR WARS DARTH VADER DARK LORD SITH TP VOL 01 IMPERIAL MACH | $17.99 | MARVEL COMICS |
| BATMAN #47 | $2.99 | DC COMICS |
| BARRIER #3 (OF 5) (MR) | $3.99 | IMAGE COMICS |
| SUPERMAN SPECIAL #1 | $4.99 | DC COMICS |
| FROM HELL TP (MR) | $35.00 | IDW – TOP SHELF |
| VENOM #1 | $4.99 | MARVEL COMICS |
| HELLBOY LIBRARY HC VOL 06 STORM FURY BRIDE HELL | $49.99 | DARK HORSE COMICS |