Today sees the publication of all four issues of Mark Millar, Eric Canete and Giovanna Niro's Chrononauts: Futureshock, a sequel to the original series by Millar and Sean Gordon Murphy who is a bit busy these days. And because it's now a Netflix-owned property, Mark thought it would be hilarious to publish all four issues today, like Netflix drops a series all at once. Rather than, I don't know, making it a 90-page graphic novel and publishing that all at once like everyone else does.
I mean, it is quite funny. May not be as funny for retailers who had to order it unseen – but then it has been made fully returnable, so there shouldn't be many complaints.
The story sees our irresponsible time travellers return, to both the past and the future, and get involved with some old friends who are trying to change history for the better. And have succeeded, even if they sound a bit like Ozymandias when doing this. Thar be spoilers…
I did it thirty-five years ago? A history where JFK's involvement with Marlyn Monroe gets him impeached and nuclear war proceeds. Killing one actress to prevent that is the Veidt Solution, but is it justifiable?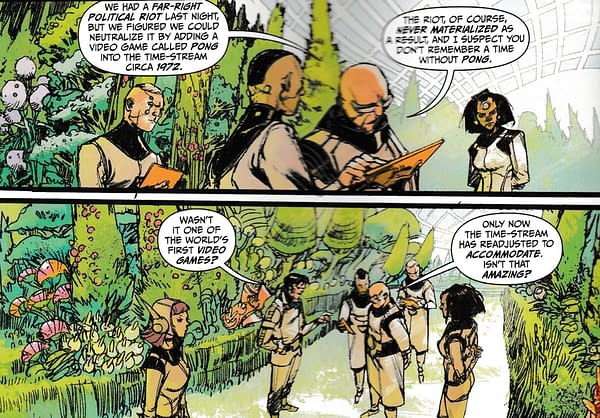 Especially as the timeline keeps popping up new versions?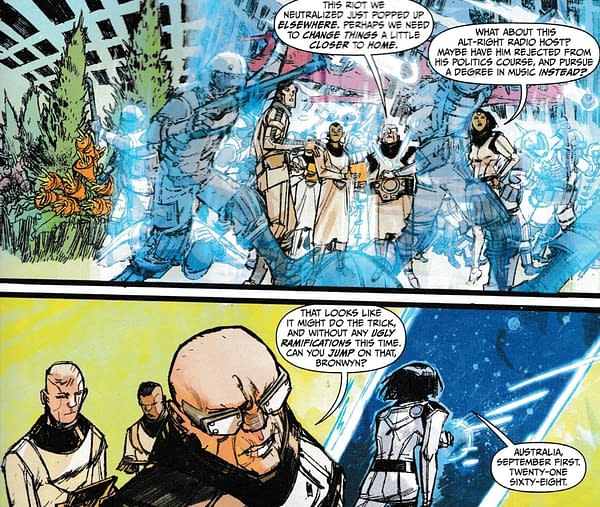 Because they have a new target and that's where the boys get a little bit perturbed. To prevent a fascist takeover in the 25th century, someone in the present has to die.
And it's an alt-right video blogger. Who happens to be a ten-year-old girl.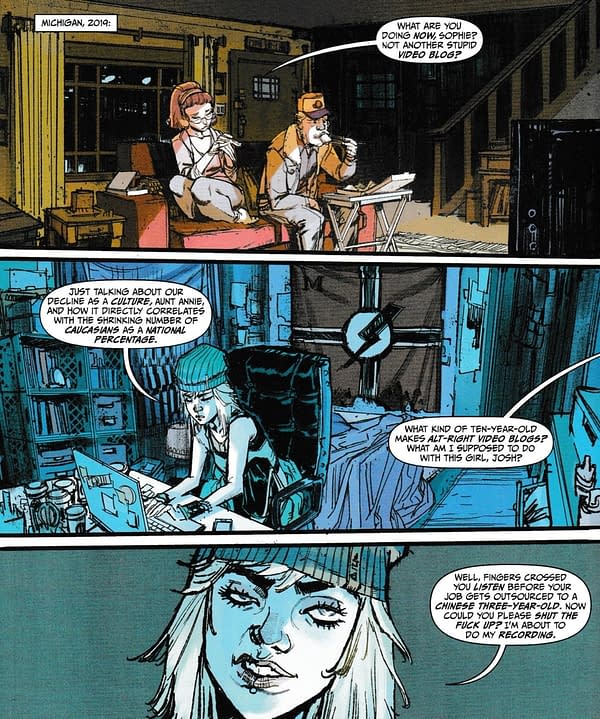 Oh Mark Millar… is this the near-future you fear for your own? Taking 'Killing Hitler as a baby' and transposing it to a ten-year-old girl who makes reactionary videos? Don't worry, I'm sure this will be handled with taste, nuance and…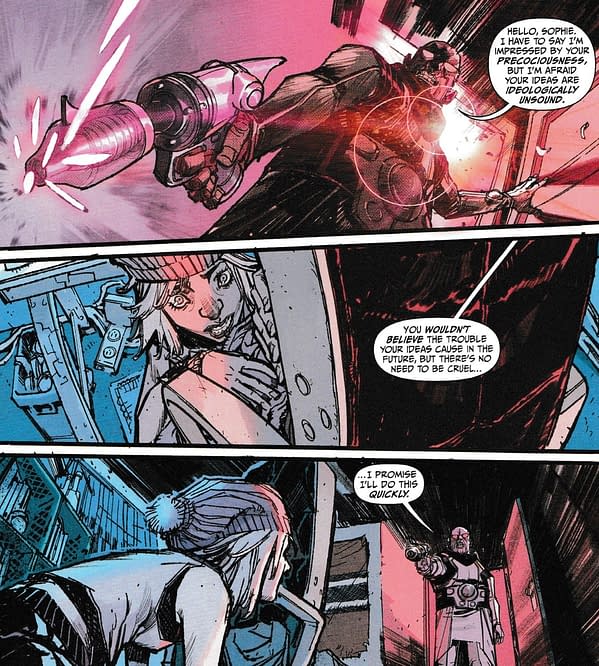 …sorry, sorry, what was I thinking?
Chrononauts: Future Shock #1, #2, #3 and #4 are all published today.
CHRONONAUTS FUTURESHOCK #1 (OF 4)
(W) Mark Millar (A) Eric Canete
MINISERIES PREMIERE
THE BOYS ARE BACK.
CHRONONAUTS returns with FUTURESHOCK, as time-traveling physicists Corbin Quinn and Danny Reilly attempt to conquer the future with their new machine-The Timehawk. A little older but none the wiser, the best friends return for their biggest mission yet!
In Shops: Oct 30, 2019
SRP: $3.99

CHRONONAUTS FUTURESHOCK #2 (OF 4)
(W) Mark Millar (A) Eric Canete (CA) Pasqual Ferry
Someone's sabotaging Danny and Corbin's missions, and they've finally figured out who. A face from the past presents them with an explosive new mission-the boys must go back into the past to protect the future.In Shops: Oct 30, 2

CHRONONAUTS FUTURESHOCK #3 (OF 4)
(W) Mark Millar (A) Eric Canete (CA) Pasqual Ferry
If one little girl with big, fascist ideas is allowed to live, the world as we know it will be destroyed. Will Danny and Corbin do what needs to be done, or defy orders and risk destroying all human civilisation?In Shops: Oct 30, 2019
SRP: $3.99

CHRONONAUTS FUTURESHOCK #4 (OF 4) CVR A FERRY (MR)
(W) Mark Millar (A) Eric Canete (CA) Pasqual Ferry
MINISERIES FINALE
The high-octane double-sized climax of the CHRONONAUTS sequel sees Danny and Corbin battle against their old Professor and classmate Bronwyn. The utopian future will collapse if they mess with the Professor's plans, but it's a price the boys are willing to pay.In Shops: Oct 30, 2019
SRP: $5.99
Enjoyed this article? Share it!