We've been Amazon fishing for lots of Marvel Comics yesterday. But there are a few more for DC Comics as well.
There's an awful lot of comic book 30th Anniversaries this year. Sandman, Tank Girl and… the Grant Morrison and Chas Truog reinventing of Animal Man, as a series that would go on to join Vertigo and establish Grant Morrison's name.
Taking ideas from his Near Myths counterpart Bryan Talbot and repurposing them for a superhero comic book, Animal Man was an environmental superhero comic book that saw him transcend his fictional roots, become self-aware and eventually change his own fate – and that of his family.
And, for 2017, it is getting an Animal Man by Grant Morrison Book One 30th Anniversary Deluxe Edition Hardcover, out for December 18, 2018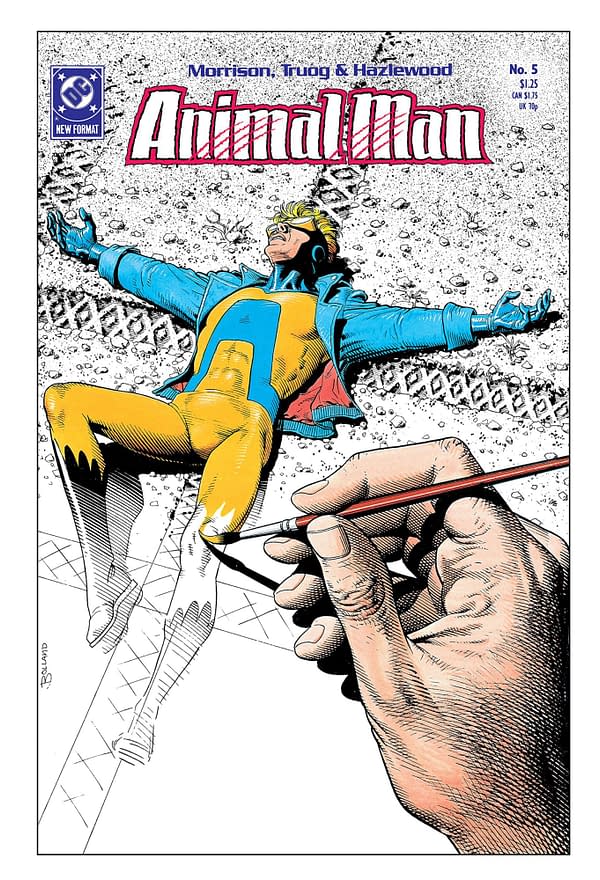 One of legendary comics writer Grant Morrison's earliest works took a forgotten, almost laughable DC Comics hero, Animal Man and reimagined him in a stunning, postmodern series, now offered in a new hardcover!

This collection introduces Buddy Baker, a second-rate superhero struggling with real-life issues and moral dilemmas. Buddy is a caring husband, devoted father, animal activist and super-powered being. But as he attempts to live up to all of his roles, he finds that there are no black-and-white situations in life. In these stories, Animal Man is called by S.T.A.R. Labs to investigate a break-in related to an AIDS vaccine, only to learn what inhumane acts are going on. Then, Animal Man is invited to join the Justice League of America, but fears that he may be out of his league.

One of the best-loved titles by Grant Morrison, bestselling author of titles including WONDER WOMAN: EARTH ONE, ALL STAR SUPERMAN, BATMAN AND ROBIN, SEVEN SOLDIERS, DOOM PATROL, JLA, THE INVISIBLES, FINAL CRISIS and many more, is repackaged in a new hardcover. Collects ANIMAL MAN #1-10 and a story from SECRET ORIGINS #39.
It is joined by a Superman/Shazam!: First Thunder Deluxe Edition Hardcover for December 18, 2018.
Witness the thunderous first meeting of the Last Son of Krypton, Superman and Earth's Mightiest Mortal, Shazam in the acclaimed Superman/Shazam!: First Thunder, now collected in this hardcover deluxe edition.

While Superman must stop members of a cult from stealing an ancient artifact from the Metropolis Natural History Museum, in Fawcett City, Shazam must defeat rampaging giant mechanical monsters. When the same cult attempts to pays a visit to the Fawcett City Museum, Superman drops by and teams up with Shazam against an all-new threat only the combined might of Superman and Shazam can stop!

In an oversize deluxe hardcover for the first time ever, Superman/Shazam!: First Thunder is a great jumping-on point for new readers and a fantastic introduction to the character who will star in Spring 2019's feature film Shazam from Warner Bros. Collects issues #1-4.
And another of the Brian Bendis books gets lined up for its fourth publisher, Goldfish Paperback for December 11, 2018
After years away, con man David Gold returns to the city he once called home and finds that nothing as it was. But the man known as Goldfish has come back for one reason, and one reason only: his son.

An enigmatic grifter returns to his old haunts to find his old flame practically running the city's underbelly. His oldest friend and ex-partner in crime a police detective. The town itself seems to have turned on him. With everything going against him, how can Goldfish reclaim the only person that he still cares about?

Written and illustrated by the legendary New York Times best-selling author Brian Michael Bendis', DC Jinxworld releases an all-new edition of one of his grittiest, most well reviewed works, GOLDFISH. Collects A.K.A. GOLDFISH: ACT, JOKER, KING, QUEEN, JACK.
Enjoyed this article? Share it!