Dynamite Entertainment is to launch a new Bettie Page comic in April, by David Avallone, Julis Ohta, Ellie Wright, Taylor Esposito and Kevin Ketner.
Bettie Page: Unbound
also dubbed the Crisis on Infinite Betties follows up on the Halloween Special with the Lovecraftian Great Old One Yog-Sothoth established himself as Betty Page's inter-dimensional archnemesis, opening a dimensional gate to kick off an invasion of Earth, collapsing reality itself in the process. Bettie takes the initiative, as always, to run right into the eye of the storm. Suddenly she finds herself a barbarian queen in the ancient past and will stumble into other multiversal freaky Friday situations.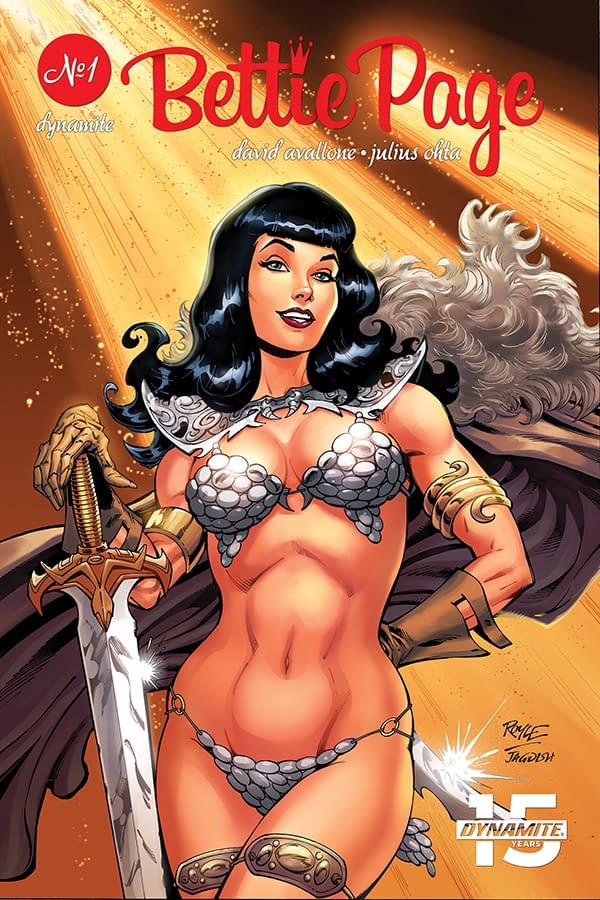 So, yes, dressing up as Red Sonja on the cover by John Royle. Also published by Dynamite.
Variant covers with other characters in play come David Williams and Julius Ohta round out the options.
Avallone is quoted as saying "I never imagined going quite this 'big' with Bettie… but this 'Crisis' idea sounded like so much fun, I really wanted to write it. Having passed that hurdle, my first question was… do I get to keep my amazing team? And the answer, thankfully, was yes. Julius Ohta is a dream collaborator: he has a true gift for likeness (his Bettie IS Bettie), a great sense of pace and drama, and he shares my obsession with period detail, costumes, props, settings, etc. On top of all that, the art itself is, objectively, beautiful to look at. Colorist Ellie Wright is relatively new, but I think her work on Bettie so far demonstrates world-class talent and if she's this good so early in her career I can't even imagine how astonishing she'll be down the road. Taylor Esposito is – to quote Warren Ellis just the other day – 'one of the best letterers of his generation' – and I couldn't agree more. Who am I to argue with Warren?"
Dynamite are also accompanying this with the Bettie Page Ultra-Premium Deluxe Trading Cards including work by Joseph Michael Linsner, David Williams, John Royle, Scott Chantler and more.
Enjoyed this article? Share it!