A Few More Big Books From DC Comics Coming In 2018 – Starting With Simon Bisley's Lobo
A few more big books of note from DC Comics for 2018 to follow our last little list. And we start with a collection of the greatest run with the Lobo character, recently revisited in Harley's Little Black Book with Simon Bisley and friends… Lobo by Keith Giffen & Alan Grant Vol. 1 Paperback – January 30, 2018 $49.99
Experience Lobo as his original creator and comics legend Keith Giffen intended!
Collected in this massive edition, the main man's most fiendish hunts guaranteed to explode with an action-packed fragfest. Brimming over with good-natured gratuitous violence and twisted humor comes everyone's favorite bounty hunter, LOBO!
Collects LOBO #1-4, LOBO PARAMILITARY SPECIAL #1, LOBO'S BACK #1-4, LOBO: BLAZING CHAIN OF LOVE #1 and LOBO: INFANTICIDE #1-4
With the TV series, the Black Lightning siers contines into the nineties.
Black Lightning Vol. 2 Paperback – February 6, 2018 $24.99
With the power to generate electricity from within, Jefferson Pierce has donned a colorful costume and the secret identity of Black Lightning! However, it will take all of his abilities to protect his Metropolis neighborhood of Suicide Slum from those that seek to destroy it. With guest appearances from Batman and some familiar villains from DC Comics lore, this new title collects the 1990s Black Lightning series.
Collects BLACK LIGHTING #1-13.
Anarky gets his own collection of titles with Gotham Knights tie-ins right now… Anarky: The Complete Collection Paperback – January 23, 2018 $19.99
What motivates Anarky, one of the most lethal and disturbing villains in the DCU? He wants to tear down the very fabric of civilization, so that he can start everything over under his own mad philosophical ideas.
After first appearing in DETECTIVE COMICS, Anarky became a cult favorite villain of the 1990s and was featured in two of his own series. He also made multiple appearances in other DC Comics series. While trying to spread his anti-establishment credo, Anarky crosses path with characters from the dark corners of the DCU like The Demon and Darkseid, as well as one of the world's finest superheroes, the Dark Knight himself, Batman!
Collects DETECTIVE COMICS #608-609, BATMAN CHRONICLES #1, BATMAN: SHADOW OF THE BAT #40-41, ANARKY #1-8.
And if you can hold out on the upcoming Judas Contract paperback collection, you can save up for something a little more deluxe.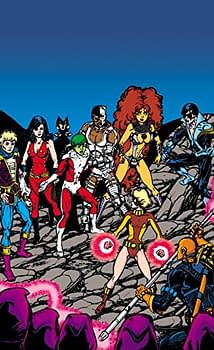 New Teen Titans: The Judas Contract Deluxe Edition Hardcover – February 6, 2018 $29.99
This essential DC graphic novel is now available in a deluxe hardcover, as writer Marv Wolfman (CRISIS ON INFINITE EARTHS) and artist George Perez (FINAL CRISIS: LEGION OF THREE WORLDS) tell the greatest Titans story ever in TEEN TITANS: THE JUDAS CONTRACT DELUXE EDITION!
They were Earth's teenage defenders–unbeatable and unstoppable. Riding high, they took an eighth member–a young girl–into their ranks. And she would be their downfall.
This new collection of THE NEW TEEN TITANS #39 and #40, TALES OF THE TEEN TITANS #41-44 and ANNUAL #3 features "The Judas Contract"! From the retirement of Robin and Kid Flash, to the birth of Nightwing and the introduction of Jericho, to the ultimate betrayal of a Titan–"The Judas Contract" kept readers positively riveted during its initial run and still has fans talking today.
While the Hellblazer collections continue in the climb to 300… John Constantine, Hellblazer Vol. 18: The Gift Paperback – January 30, 2018 $24.99
His hellish journey continues in JOHN CONSTANTINE: HELLBLAZER VOL. 18: THE GIFT. John Constantine has become a father. Through magic, coercion and deceit, the she-demon, Rosacarnis (daughter of Nergal and ruler of his domain in Hell), has birthed three children of the Hellblazer's seed–Adam, Maria and Saul–and has now unleashed them upon the world. But before they can realize their malevolent destiny, the children must first confront and defeat their mortal father, a powerful and cunning mage.
Collects JOHN CONSTANTINE: HELLBLAZER #202-218.
And something for John to while away the aeons with waiting for Vol 19? DC Covergirls: An Adult Coloring Book Paperback – March 6, 2018 $15.99
Wonder Woman, Harley Quinn, Batgirl, Supergirl, Catwoman, Black Canary and more are now featured in their very own adult coloring book: DC COVERGIRLS: AN ADULT COLORING BOOK!
DC Comics presents classic adventures in a whole new way: in black-and-white, on heavy stock suitable for coloring, featuring covers and pin-ups! With illustrations by such critically acclaimed artists like Jim Lee, Terry Dodson, Adam Hughes and more, this adult coloring book is a must-have for any fan of DC Comics and their legendary female characters!