This is the Top 10 Bleeding Cool Bestseller List, as compiled by a number of comic stores from their sales on Wednesday and Thursday. It measures what are known as the "Wednesday Warriors", those who can't wait to the weekend to get this week's comics. We salute you, and the keenness you bring to your passion.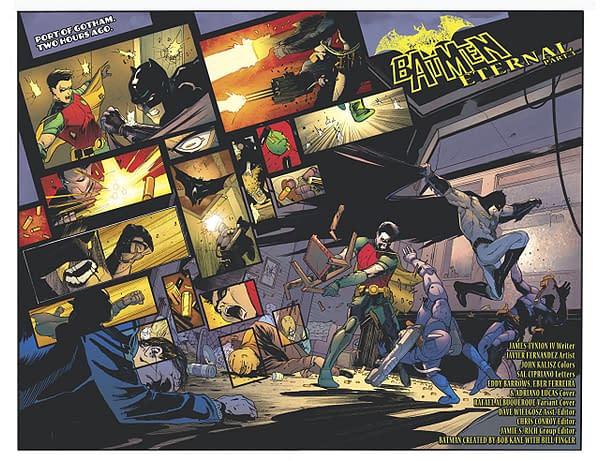 And the clear winner this week is Detective Comics, even above the anniversary Captain America, the conclusion of the Avengers No Surrender arc and the launch of Jim Lee's new comic, Immortal Men. Oblivion Song did well with its second issue, and Domino made it int the top ten with its launch…
Detective Comics #978
Captain America #700
Avengers #688
Immortal Men #1
Oblivion Song #2
Thanos #18
Darth Vader #14
Flash 44
X-Men Red #3
Domino #1
Thanks to the following retailers
…who had this to say:
Marvel dominates with 7 out of the 10 top sellers (with 11 & 12 being Marvel as well)
Interesting week at FFF as our top selling book was Thanos (not surprising) and our second best selling book was Immortal Men which sold almost entirely off the shelf. Interest in the New Age of Heroes hasn't been great with The Terrifics being the only book that has had any real success in our store, but even that first issue didn't sell as well as Immortal Men did this week. Jim Lee really moves the needle, even if he didn't work on the whole issue and is already off the book by the next one. It's also one of the only books that seems to have real Metal repercussions (along with The Terrifics) so I can see it selling well until the Batman Who Laughs leaves the pages as well. KIRKMAN's Oblivion Song seems to be selling better than the first issue as well. I don't know if it's another Outcast that'll drop off hard after the first story arc or if it's the next Invincible or Walking Dead and will stay strong for years to come, but as long as it's selling well now I'm happy.
This is the first week since the beginning of the weekly event that Avengers has fallen out of the Top Ten. It still managed to sell well enough to make it to #11, selling one less copy than X-Men Red. Doctor Strange also sold less than it normally does which is a little… strange as the general customer reception to Donny Cates's run and Damnation event has been pretty positive. Venomized is still selling well enough to be our #8 best selling book this week and Captain America's anniversary issue sold a handful more copies than the book normally does. We were shorted all of our copies of Thrawn #3, but I'm sure it would've sold well.
Well look at that– a paradigm shift! I'd say Marvel won the week (even though Detective was our #1 seller and the Action 80th HC sold gangbusters) with a whopping SIX of the top ten spots! Immortal Men was the biggest surprise of the week, but not for good reasons– we committed pretty hard and only saw about a 30% sell-through. Crowd pleasers Kirkman and Lemire charted higher than expected with Oblivion Song and Gideon Falls, and Donny Cates was the man of the week with two charting books. Fun times!
Image ruled the roost on a week without Batman. Domino debuted strong with Gail Simone fans, Immortal Men keeps the new age of DC heroes trucking, and everything else was kind of business as usual.
Another good week for Marvel. They had 6 of our top ten spots. ASM 798 squeaked into the 10th spot to make the top ten 2 weeks in a row. Next week will be all waiting to see what kind of records Action#1000 sets.
Not a bad week. Marvel had five books in the top ten for us. Domino did better than I thought it would.
Immortal Men did not do as well as I had hoped. Ironically DC's New Age New Heroes, for such an artist focus on the books, the one that sells the best for us is the Terrifics, which is because the writer, Jeff Lemire currently has more people interested in his work than any of the artists on the books. Immortal Men had a strong tie in to Metal but after Silencer and Damage showing little to do with Metal people assumed this one didn't really tie in to it also. Sad to see Supergirl go. X Men Red selling real well here. Captain America 700 was a hit. Much more of a hit than Daredevil 600 was. The joys of come ordering.
We had a lot of titles sell strongly this week, resulting in a more mixed list than we usually have. The top spot was a three way tie with AVENGERS #688, CAPTAIN AMERICA #700, and DETECTIVE COMICS #978 so while we had a Bat-book in the top spot as usual, the Caped Crusader found himself sharing the throne with the current *very* popular Avengers event and a milestone Cap issue.
There was solid interest in Marvel's two new #1's this week, EXILES and DOMINO, and they rest comfortably at the bottom third of our sales list. In the middle ranks we have personal favorite X-MEN RED as well as DC's latest New Age of Heroes offering: IMMORTAL MEN #1.
Lower than usual sales for the week. Obviously next week is looking to be a lot better. No real surprises for our list. Oblivion Song holds enough readers for #6. Vader has been gaining readers, enough for #3 in sales this week. While not making the list, Gideon Falls is off to a promising start. More interesting than what sold is what didn't. Immortal Men did ok numbers. Way below what we were anticipating. Between Wednesday and Thursday we sold zero copies of Sideways off the shelf.
Strong Marvel sales put pressure on DC; while Marvel only had 3 of our store's top ten, with six for DC and 1 for Image, Marvel had 10 of our store's top twenty, with eight for DC and two for Image. The big Marvel winner this week was Domino, which was our second best-seeing title overall; Immortal Men #1 performed well for DC, although the fact that Jim Lee didn't even finish the first issue before bailing on this book doesn't bode well for the series long-term. (Interestingly, had we counted the 80 Years of Action Comics hardcover as a comic rather than a collected edition, it would have been our third best-selling title of the week!)
—
Notable Sales
Savage She-Hulk #1 $75
Iron Man #55 CGC 6.0 $700 – Infinity madness has taken hold!
Enjoyed this article? Share it!