This is the Top Ten Bleeding Cool Bestseller List, as compiled by a number of comic stores from their sales on Wednesday and Thursday. It measures what are known as the "Wednesday Warriors", those who can't wait till the weekend to get this week's comics. We salute you, and the keenness you bring to your passion.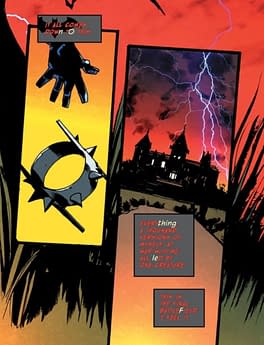 The Batman Who Laughs continues to make the beancounters chuckle, Event Leviathan and Silver Surfer Black have started strong, Immortal Hulk continues to rise and people are noticing Life Story. And Walking Dead makes it twice in two weeks with the same issue… a rare feat.
Top ten bestselling comics of the week
The Batman Who Laughs #6
Event Leviathan #1
Silver Surfer: Black 1
Immortal Hulk #19
Amazing Spider-Man #23
Detective Comics #1005
Spider-Man: Life Story #4
Superman #12
Walking Dead #192
Venom #15
Thanks to the following retailers
Famous Faces & Funnies of West Melbourne, Florida.
Ssalefish Comics, Winston-Salem & Greensboro, North Carolina.
Graham Crackers Comics– 12 locations IL/WI/CA.
Rodman Comics, Ankeny, Iowa.
Comix Experience Outpost, San Francisco, California.
Collector's Paradise Pasadena, California.
Comix Experience San Francisco, California.
Fat Jack's Comicrypt, Philadelphia, Pennsylvania.
Dr. No's Comics & Games Superstore of Marietta, Georgia.
Who had this to say
The Weekly Bestseller list at FFF this week leads with a book that came out LAST week, with Walking Dead #192 taking the top spot once again. I'm a little surprised it's still at the top, but I'm confident that we'll see it on the Top Ten for a few more weeks to come. For books that did actually come out this week, Event Leviathan is starting strong. It's weird that an event that was built up in a Superman book has more Batman action in it, but it was a solid read and I think it'll hold its numbers well. Silver Surfer Black also had a strong start. Another book on it's second week that outsold most new books was DCeased #2. People are loving the book and the gorgeous variant covers definitely help. Between three covers, DCeased #2 outsold the new Amazing Spider-Man by twelve issues. It even outsold Immortal Hulk which has been a strong seller since issue one.
—–
How many laughs does Batman laugh when the Batman Who Laughs laughs? Enough to lead sales and earn a 7th issue in late July, apparently. Listen- I'm scraping the bottom of the barrel here for title-related goofs, and I can't not poke fun at it. I'd been holding onto "Batman Who Laughed His Last" for this originally-scheduled last issue, but alas, it'll have to be postponed.
Anyway, in the spirit of actual sales commentary, DC took the lion's share this week with 5 titles in our top 10, leaving Marvel with 4, and Image with 1. Event Leviathan was as successful as expected, with Superman's numbers up in tandem with it. Silver Surfer Black did okay- Not quite as well as it could have done. A lot of the attraction to the title seems to stem from both the quirky character and Donny Cates' writing, but Tradd Moore's art seems to be divisive, with people either loving it or hating it. Sonata #1 also enjoyed a strong start, the first strong launch Image has had at our store in a long time.
—–
Weak week. Hopefully people are just busy with traveling.
—–
Sold almost half of our Immortal Hulk #19 within the first day. Event Leviathan comparatively under performed despite the all star team of Bendis and Maleev. Silver Surfer Black almost sold out within the first day. Spider-Man Life Story continues to be a solid choice for old fans and new comers alike.
—–
For this week it looks like Marvel is in the top version of the output. There are some ways other comics are coming to a rise.
—–
A five-five split this week between Marvel and DC, but Marvel took the top two slots with Immortal Hulk and Spider-Man: Life Story. Event Leviathan #1 came in a solid third place, but that's not the performance we (or DC, I suspect) had hoped for considering this title's prominence in DC's publishing plan for the next few months. Once again, Superman failed to make our Top Ten at all–a disappointing change, but one that seems to reflect the new norm for Superman sales in our market.
Enjoyed this article? Share it!