This is the Top 10 Bleeding Cool Bestseller List, as compiled by a number of comic stores from their sales on Wednesday and Thursday. It measures what are known as the "Wednesday Warriors", those who can't wait till the weekend to get this week's comics. We salute you, and the keenness you bring to your passion.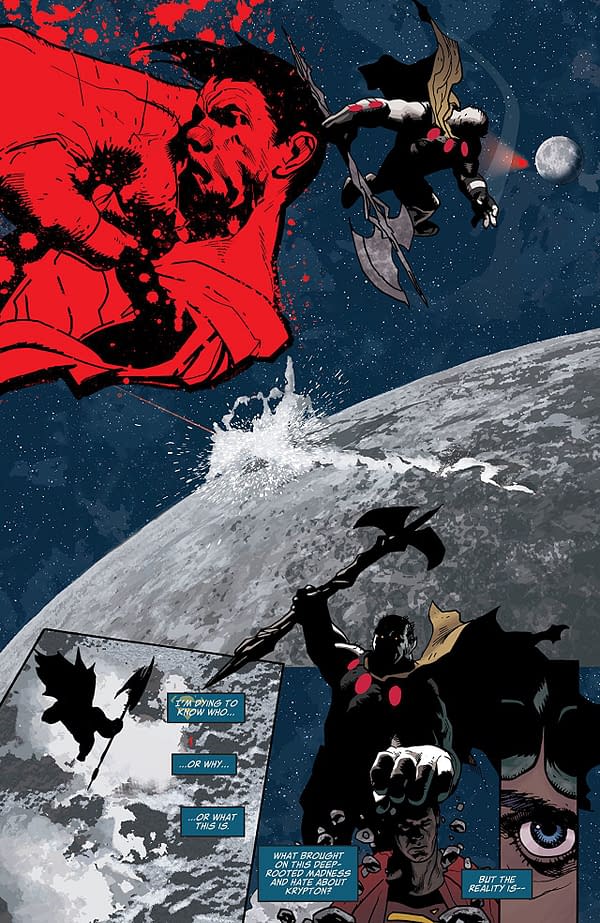 The book was ordered low. The reviews have been mixed. But Bendis knows what he's doing. And Man of Steel by Brian Bendis, Adam Hughes and Jason Fabok takes the top, beating out Harley Vs Joker and Venom. But note that Black Panther is getting a bit of a bump as well…
Man Of Steel #5
Batman Wedding Prelude Harley vs Joker #1
Venom #3
Black Panther #2
Thor #2
Flash #49
Detective Comics #963
Teen Titans Special #1
Batgirl #24
Saga #53
Thanks to the following retailers
And this is what they had to say,
DC dominates the Top Ten at FFF this week even though the list was bookended by Marvel titles at #1 and #10. Our #1 selling book this week was Venom thanks to a mix of Donny Cates love from our staff and customers and an influx of new "customers" looking to cash in on the first appearance of the "god of symbiotes" K***l. Speaking of speculators, this week's variants for Batgirl and Ms. Marvel sold out by the end of Wednesday, pushing both books from moderate sellers to top sellers of the week. Rounding out the sought after quadruple was Moon Girl and Devil Dinosaur, a book we normally only sell two copies of. Several people we've never seen in the store before came in to find a copy and were sorely disappointed when they found out we didn't order any copies past our sub list. More and more our store has seen one time customers who try to buy as many copies as they can of the next hot movie/tv show/first appearance. Speculators are always going to be a part of the industry and in moderation provide some level of return service, but having four books in one week be "the hot book" is a little disconcerting. If I thought we'd ever see any of these people again to pick up the next issue of Ms. Marvel or Moon Girl or Batgirl then I wouldn't mind their attempts to convince me they just want to buy six copies for their friends and not to flip on eBay. These quick cash grabs are becoming more and more recent and while we don't rely on a hot book to keep us floating, the market isn't strong enough to suffer another bubble burst.
In more positive news, Batman #49 sold well enough to make the Top Ten in its second week. People are getting excited about the wedding and they don't want to trade wait to find out what happens. Meanwhile at Marvel, Marvel Two-in-One is filling a Fantastic Four-less void while being a genuinely great read that is managing to both retain readers as well as hooking a few more as we come closer and closer to the return of the Richards family.
—-
This was another really strong week. The numerous great titles really brought people out in record numbers. We haven't had a Wednesday this strong in 2 years. I can't wait to see what next week brings.
—-
The top ten was kind of just barely a top ten this week and more of a better ten. Batman Prelude to the Wedding dominated for the 5th week in a row. I think maybe ten people tapered off total since the first issue making this the best selling weekly event in the history of the store. Actually reading previews and listening to what customers ask for meant we had plenty more copies than usual for Moon Girl #32 and for the first time ever that book made it to the top ten list, if not simply for the fact that the competition was slim and the book debuted a new character. Venom #3 deserves the love it is getting and I am glad that Marvel is back to having a high number of average subs again at our store.
—-
Mostly big Image stuff and relaunched Marvel, which seems like a good place to be.
—-
A bit of an upset from the usual look of the list this week as VENOM #3 rides a wave of "new character" heat straight to the top of the list. Following close on the symbiote's heels is BLACK PANTHER #2 and an expected appearance by the Caped Crusader with DETECTIVE COMICS #983.
Midlist on our top sellers chart brings mostly familiar faces such as FLASH, THOR, and MAN OF STEEL. The end of the list brings us some of the more offbeat titles from the big two, including the premiere issue of Jeff Lemire's SENTRY series.
Good week. Batgirl sold well, people are into the variant cover. Marvel only got their two Star Wars titles in our top ten, though Marvel Two in One almost managed to sneak in. Big week for people trying to flip comics on the secondary market with the variant Ms Marvel, Batgirl variant, Moon Girl, and Teen Titans Special being sought out. Raven never seems to sell well nationally but here in store people like the character. Sentry and Multiple Man sold low, though we weren't expecting them to be in demand so we ordered low. Next week new comics on July 4th, should be interesting.
—-
A very DC-heavy week, with eight DC titles in our store's top ten and two Marvel titles. DC actually managed to take the top seven slots, which is a particularly strong showing considering Marvel's output for the week (which included some quality books like Thor, Venom, Marvel Two-in-One, and Black Panther). Man of Steel barely edged out Harley Vs. Joker for first place, but it was a neck-and-neck race until the last five minutes of the business day.
Enjoyed this article? Share it!