Bleeding Cool Bestseller List – 2nd October 2016 – No Marvel Superhero Comics In The Top Ten Again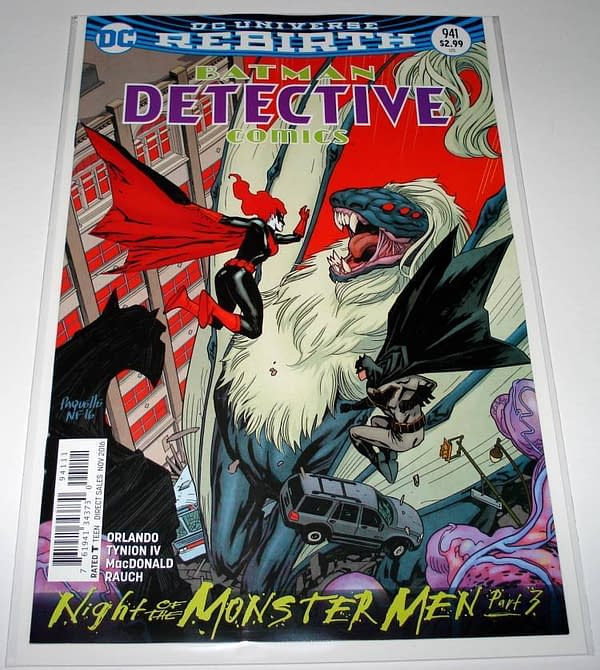 This is the Top Ten Bleeding Cool Bestseller List, as compiled by a number of comic stores from their sales on Wednesday and Thursday. It measures what are known as the "Wednesday Warriors", those who can't wait to the weekend to get this week's comics. We salute you, and the keenness you bring to your passion.
DC Comics place eight out of ten this week, with a couple of Rebirth launches, but showing the continuing appeal and resilience of titles such as The Flash, Wonder Woman and Titans, books that rarely bothered the Bestseller List before. Marvel places Star Wars towards the end of the list, and Image place Saga. But for Marvel's superhero titles they would have to wait until places fourteen and fifteen for Spider-Man Deadpool #9 and Captain America: Steve Rogers #6…
1. Detective Comics #941
2. Teen Titans Rebirth #1
3. The Flash #7
4. Titans #3
5. Batman Beyond Rebirth #1
6. Wonder Woman #7
7. Suicide Squad #3
8. Star Wars #23
9. Action Comics #964
10. Saga #38
Thanks to the following retailers.
Who had this to say.
I really have to find a different way to write this because I am starting to sound like a broken record.. DC once again makes a clean sweep of this week's top ten!! Teen Titans Rebirth #1 was our best selling book since Suicide Squad Rebirth #1 and that had a movie to drive up sales! The upcoming week may see Marvel actually be in the top ten with the relaunch of Marvel Now! however we don't expected it to last because customers are still enjoying the heck out of DC rebirth even 7 issues in for a majority of their titles and have very little excitement for the new Marvel titles.

Marvel continues to play "Suppose they gave a (Civil) War and nobody came?" Not a single Civil War 2 title even broke the top twenty in our store; Rebirth swept every key position, with Saga coming in right after the full line of Rebirth books, then Star Wars, then not another Marvel until 23rd place. Readers just can't get enough Rebirth–great stories and great art make for enthusiastic fans!

Continued interest in pre-Crisis DC's, plus some modest interest in early Ghost Rider–but it's Johnny Blaze they want.

Star Wars was #1 and a few of the DC titles were pretty close. Would not have been even a contest if the action figure variant was not shorted. If Marvel wanted to compete again i would recommend more Star Wars titles since collectors seem to be fine with the product and seem to crave more than what is being put out.

Back-issue market was Teen Titans and Wolverine…no particular issues. people just picked up handfuls which i believe will be read for a change.

Rebirth keeps selling better than I could have ever hoped. Titans 3 sold out Wednesday thanks to the issue being talked about online. Cho leaving Wonder Woman did cause people to drop the title while new people came on. Marvel I keep hoping for the readership bleed off to stop or at least slow. After all the talk about Nighthawk ending it still sold terrible. Not a single new reader checked it out. Which is what is Marvel's issue is right now. There is no new readers checking out their titles. Just readership dropping Marvel titles.

While people are not getting into new Marvel comics interest has picked up on old Marvel comics from the 1980s.

Detective Comics is our top book this week and has been the breakout hit of Rebirth, selling over 4 times for us what it was selling pre-Rebirth and higher than that in some stores from talking to other retailers. We're seeing a sales bump on it for the Monster Men crossover, although I think it's kind of a weird arc which I'm not sure is the strongest representation of what these Rebirth books are capable of. Teen Titans Rebirth is off to a good start, Flash, Titans and Batman Beyond Rebirth fill in our top five books this week. Saga is our first indy book on the list and bestseller overall, but to a more casual audience that doesn't all race in on Wednesday. Our highest selling Marvel book this week (and overall) was Spider-Man Deadpool 9 in our 12th spot, which is also a casual seller. Batman 7 almost sold enough in week two to make our top ten again. The other non-Rebirth bestsellers for us are Outcast at 17, Star Wars at 18, All New Wolverine and Captain America Steve Rogers tied at 19. Rebirth is still killing it as we begin month 5. Well played, DC Comics!

Still selling a lot of older DC to some jaded X-Men fans. Also selling some older X-Men issues as no one seems too psyched about what's happening in the X-Men titles right now. Hopefully Death of X will change that, but no one seemed excited about IvX or anything Inhumans, really, but Marvel's going to keep trying to push this line of characters for some reason. Ghost Rider has gotten a decent boost because of his appearances in Agents Of SHIELD and some are checking out even the other Ghost Riders as well. Let's see if the next few weeks of comic TV shows returning move the needle on any of those character's books.

Good, strong sales across the board this week. DC took 7 of the top ten spots, including Detective Comics at #1, by small margins. Both Captains America, Hulk, New Avengers and Doctor Strange just barely missed making the list. Titans and Teen Titans are doing very well right now. Batgirl, Action, Wonder Woman and Flash are DC's other best performers for the week.

Our lone non-BigTwo for the week is Saga with the #2 spot. And Marvel's two charters are Ms. Marvel at #9 and some licensed sci-fi book at #3.

With the uptick in Silver Age interest has come an uptick in sales of Back Issue and Alter Ego. All eras of Miles Morales tps are selling very well.