Bleeding Cool Bestseller List, 6th May 2018 – 'DC Nation #0 Carried The Week'
This is the Top 10 Bleeding Cool Bestseller List, as compiled by a number of comic stores from their sales on Wednesday and Thursday. It measures what are known as the "Wednesday Warriors", those who can't wait to the weekend to get this week's comics. We salute you, and the keenness you bring to your passion.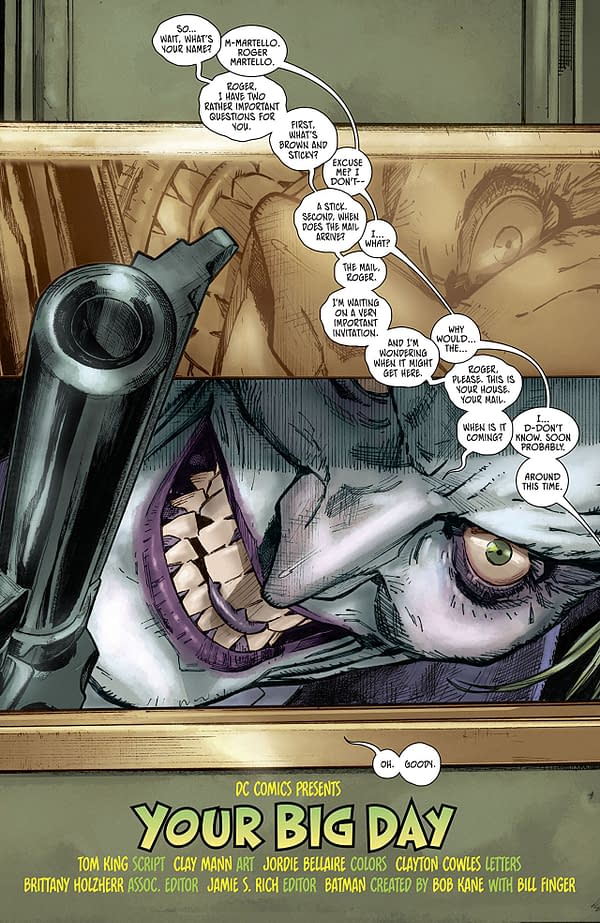 DC Nation #0 topped the charts by stint of being only 25 cents – but also being a damn fine little anthology of Batman, Justice League and Superman, kicking off what's happening from Bendis, Snyder and King. But note a string performance for new series Death Or Glory and Coda – and Batman still beating out the massive Avengers launch. While Bendis' final Miles Morales comic gets a bump as well..
Top Ten Bestselling comic books of the week.
DC Nation #0
Batman #46
Avengers #1
Action Comics Special #1
Death Or Glory #1
Deathstroke #31
Captain America #701
Coda #1
Walking Dead #179
Spider-Man #240
Thanks to the following retailers
Who had this to say,
The 25 cent DC Nation #0 carried the week, and Rick Remender and Bengal's new Image series Death or Glory proved to be a big draw as well. There was also an indie comic that sold pretty well this week–Daygloahole #1 from Silver Sprocket, Ben Passmore's punk, florescent take on the apocalypse. If it had sold one more copy, it would've made our top 10!
—–
This week had the look of "a handful of titles that will sell very well" and our list shows that seems to have borne out. The ever reliable BATMAN tied with DC NATION #0 zero for first place – the latter's performance unsurprising given the "no reason not to price point of twenty-five cents.
The (sigh) newest AVENGERS #1 did well despite being the umpteenth "AVENGERS #1" we've had in the last few years. If I had to hazard a guess, I'd imagine the stacked creative team of Jason Aaron and Ed McGuinness are mostly to thank.
—–
Hot on the heels of the historic ACTION COMICS #1000, the ACTION COMICS SPECIAL #1 continues to sate comic fans' desire to celebrate the venerable title.
Elsewhere in the list we have some of Marvel's event books like INFINITY COUNTDOWN #3 and HUNT FOR WOLVERINE WEAPON LOST #1, and at the bottom of the list we see a showing from outside the DC/Marvel tent with the excellent DEATH OR GLORY #1.
—–
Weird week. Our reorder of Action Comics #1000 came in second, just barely being beat out by Batman #46. Avengers #1 sold the same amount as last week's Avengers issue. Meaning it made it in our top ten but I over ordered on it. I hoped with the movie and creative team there would be a boost. I was wrong. It does seem odd to have a new first issue less than a month after the previous issue. Hoping the book has some legs. You Are Deadpool made it in our top ten. Star Wars Tag & Blink Were Here sold out quickly. A surprise hit. DC Nation of course made it into the top ten. Though a lot of people thought it was free instead of 25 cents. It is odd that it comes out the Wednesday before Free Comic Book Day. Special shout out to Mighty Morphin Power Rangers and Sonic. Though not in our top ten and no new Sonic this week, new people have been coming in for these books.
—–
We ordered an exclusive cover for DC Nation #0, and gave it to everyone in our store. It was better as a promotional item, than it was a .25 cent comic.
A strong DC week, led by DC Nation #0–the combination of a low pricepoint and strong content led this book to a 3:1 jump per the second place title. Altogether, DC took 7 top ten positions, Marvel took 3 (with the final issue of Spider-Man squeaking in at tenth place, ahead of such books as Infinity Countdown and Hunt for Wolverine Weapon Lost!