We mentioned the other day that Batman Chronicles #21 from 17 years ago was Brian Michael Bendis's only previous credit for DC Comics, for a short story with Michael Lark called Citizen Wayne, retelling the Citizen Kane story with the Waynes in the pulp fashion. At the time, it was selling copies from between 99 cents and $3, and we suggested that it might possibly be a collector's item-in-waiting. We also pointed out that after not having a sale of the issue for weeks, seven had already been snapped up that very day.
Well, since then, 19 copies have been sold, wiping out anything close to cover price copies. And the price asked and sold for has risen to first $5, then $10, then $15 and now $30 — or just about.
One retailer told me they had six copies in their dollar box. They don't anymore…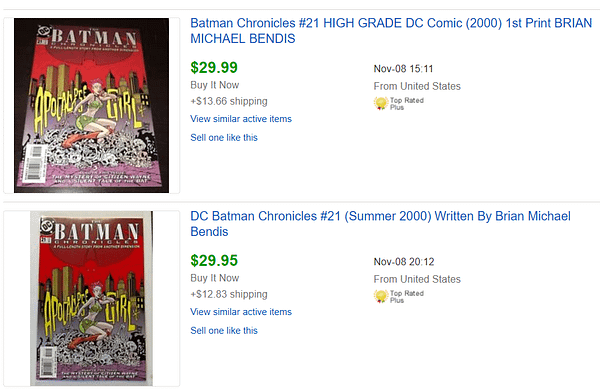 Enjoyed this article? Share it!