Writer Dennis Culver (E Is for Extinction) and artist Geoffo (layout artist for Marvel Rising) have a new ongoing creator-owned series, Burnouts, published by Image Comics in September.
"Think John Carpenter's They Live meets Freaks & Geeks," said Geoffo. "This is how Dennis pitched me the series, and once I heard that, I couldn't wait to draw this crazy fun thing! I'm so eager to share it with the world. You're gonna love it, and you don't even have to get high to enjoy the ride!"
To save their friends and families, a group of high school teenagers must fight off an attack on their town by a secret alien invasion… but they can only see the aliens if they're completely wasted.
"The Burnouts are the wrong crowd that your parents always worried you'd fall in with at school—and they're mankind's last hope," said Culver. "I can't wait for people to read this book! Geoffo and I have cooked up a great comic filled with teen angst, violence, and dark humor."
The Burnouts #1 will be published on Wednesday, September 19th. The final order cutoff for retailers is Monday, August 27th.
It's funny because they're aliens. And they're on drugs…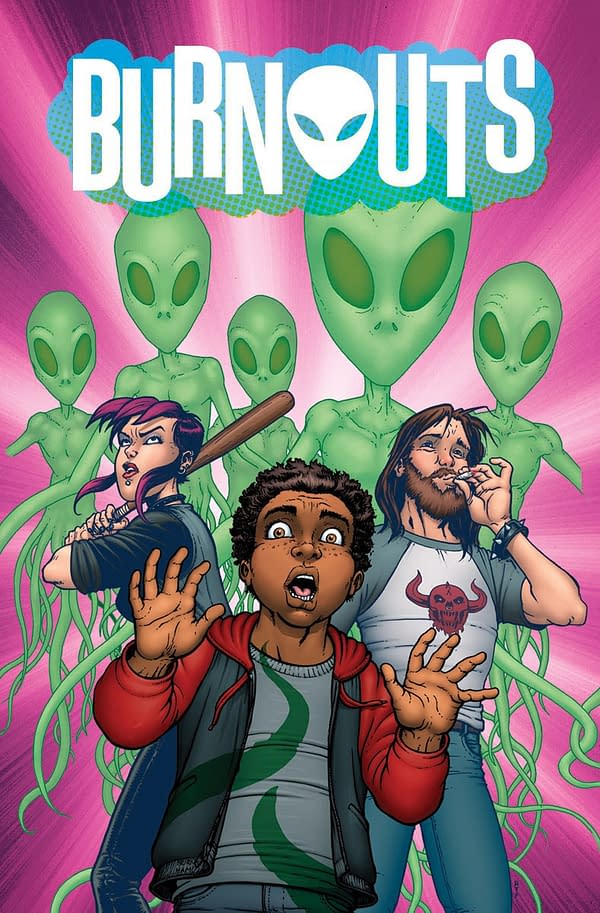 But I don't know, many titles will they have 'burned' through before setting on this one? And can we come up with any other suggestions?
Close Encounters of the Stoned Kind?
A Higher Intelligence?
We Come in Peace, Man?
Invasion of the Bong Snatchers?
2001: A Spliff Odyssey?
Independence Doobie?
The Day the Earth Sat Down and Chilled?
War of the Weeds?
Forbidden Plant?
Quatermass and the Good Shit?
Starship Doobies?
Men in Baggies?
The Midwich Caracas?
Or how about simply… The Andromeda Strain? Come on people work with me here, give us your best shot… solicits aren't actually out yet, there's still time if you're creative enough… I mean, these guys are so stoned they'll buy anything.
How about a rizla paper variant cover?
Enjoyed this article? Share it!