Celebrate The Spirit's 75th With Jeff Smith At Wizard World Ohio This Weekend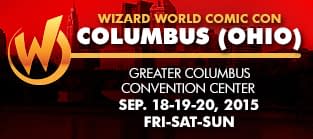 If you're in New York this weekend, hopefully you'll be going to the Brooklyn Book Festival, tragically scheduled at the same time as Small Press Expo, where you'll find many comics folks this weekend in Bethesda, Maryland. But if you're in Ohio, you won't be missing out on learning some cool things about comics and hearing some serious talent talking about their craft.
Here's a selection of the most educative panels at Wizard World Ohio in Columbus running Friday through Sunday, where you'll even find Jeff Smith talking about the 75th Anniversary of Will Eisner's The Spirit with former Marvel Editor and writer Danny Fingeroth.
FRIDAY, SEPTEMBER 18:
5:30 – 6:15PM HOW TO WRITE COMICS WITH ARCHIE'S BARBARA SLATE, SPIDER-MAN'S DANNY FINGEROTH, ALBERT THE ALIEN'S TREVOR MUELLER & ORIGIN UNKNOWN'S VICTOR DANDRIDGE (ROOM E150)
Accomplished comics writers Barbara Slate (You Can Do a Graphic Novel), Danny Fingeroth (How to Create Comics From Script to Print), Trevor Mueller (Albert the Alien) and Victor Dandridge (Origins Unknown) show and tell you how to write comics and graphic novels, going from initial idea to outline to script to finished story. Plus, the panelists will answer your questions about both the creative and business sides of the comics writing profession, including how to find an artist to work with (hint: a comics convention is the number one place!) and how to write exciting dialogue!
7:30 – 8:15PM PRESERVING THE LEGACY OF JERRY SIEGEL AND JOE SHUSTER (ROOM E150)
Members of Cleveland's Siegel and Shuster Society will discuss their efforts to bring attention to the creators of Superman and their hometown. A number of exciting projects are now being planned and will be discussed at this forum.
SATURDAY, SEPTEMBER 19: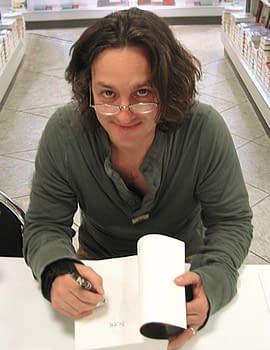 1:00 -1:45PM WILL EISNER'S THE SPIRIT AT 75: A CELEBRATION! WITH BONE'S JEFF SMITH & SPIDER-MAN'S DANNY FINGEROTH (ROOM E150)
In celebration of the 75th anniversary of the debut of Will Eisner's groundbreaking character, The Spirit, Jeff Smith—creator of the graphic novel series Bone, RASL and Tuki, and friend of Will Eisner—will discuss the legacy and impact of The Spirit and the rest of Eisner's amazing life and career. Danny Fingeroth (Chair of the Will Eisner Week organizing committee) moderates.
5:00-5:45 PM 1940: WORLD WAR II AND COMICS: THE JOKER, ROBIN, THE FLASH, CAPTAIN AMERICA, CAPTAIN MARVEL, AND THE SPIRIT! with ANDELMAN, TAYLOR, SANGIACOMO, OLSZEWSKI & FINGEROTH (ROOM E150)
75 years ago, in 1940, as the Nazi conquest of Europe continued and the Battle of Britain raged, the United States watched from the sidelines while instituting the first peacetime draft. At the same time, the world of comics was experiencing an incredible sustained period of invention, as The Joker, Robin, Green Lantern, the Flash, Hawkman, the Spirit, Catwoman, and Captains America and Marvel all debuted! (Not to mention the debuts of pop culture icons Bugs Bunny, and Brenda Starr, and classic movies Fantasia and The Great Dictator!) Showing and discussing historical and cultural factors that made that year so important is a panel including Bob Andelman (Will Eisner: A Spirited Life), Kirk Taylor (Bazooka Joe and His Gang), Mike Sangiacomo (Cleveland Plain Dealer), Mike Olszewski (The Siegel and Shuster Society) and Danny Fingeroth (Disguised as Clark Kent: Jews, Comics and the Creation of the Superhero).
SUNDAY, SEPTEMBER 20:
12:00-12:45PM SUPERSTAR ARTISTS TELL ALL! With SPIDER-MAN'S STEVE LIEBER, BATMAN'S RICK BURCHETT, NINJA TURTLES' BILLY MARTIN & DEADPOOL'S MIKEY BABINKSI (ROOM E150)
Four top comics artists talk about their careers, their craft, the comics business and whatever else might come up—and may even show you some of their top-secret techniques! Join peerless pencilers Steve Lieber (Superior Foes of Spider-Man), Rick Burchett (Batman), Billy Martin (Teenage Mutant Ninja Turtles) and acclaimed inker Mikey Babinski (Deadpool) for this eye-popping panel. Danny Fingeroth (How to Create Comics from Script to Print) moderates.
3:00-3:45PM FROM CAP'S SHIELD TO AGENTS OF SHIELD TO ANT-MAN! MARVEL COMICS AT 76 with SPIDER-MAN'S STEVE LIEBER & DARKHAWK'S DANNY FINGEROTH (ROOM E150)
In 1939, Marvel Comics #1 debuted, unleashing The Sub-Mariner and The Human Torch on the world, and launching what would come to be known as the Marvel Universe. Steve Lieber (Superior Foes of Spider-Man) and Danny Fingeroth (The Stan Lee Universe) present an illustrated tour through the seven decades of comics, movies and TV series that make up the phenomenon that is Marvel.
Find out more about the rest of the programming at Wizard World Ohio here.