Clue Candlestick continues its murder mystery tale with a delightful art history lesson; that the pigments in white and green paints are poisonous.  Violets complement the yellow of the sun, blue was used for the Virgin Mary because it was the rarest and most expensive, mustard yellow is simply hideous, and scarlet is arguably the boldest and most noble pigment of all.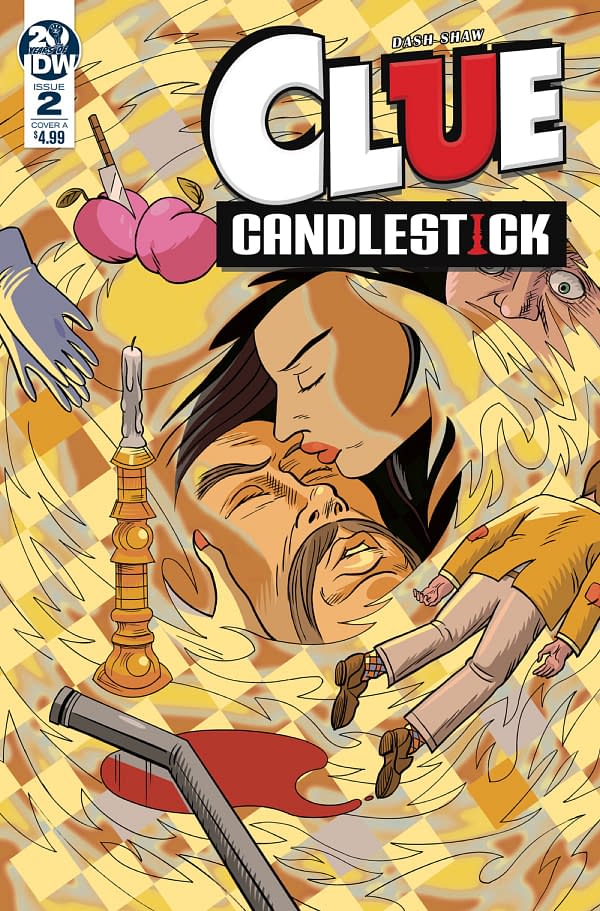 Miss Scarlet encompasses the all characteristics of her titular color and more, with the comic opening to her career as a model and muse in the art world.  She uses her beauty to entrance the men who demand to work with her, where unfortunately too distracted in their lust, often end up 6 feet in the ground and Miss Scarlett innocently moves on to the next employer.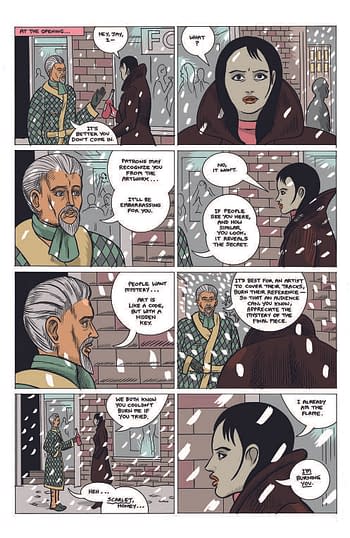 Dash Shaw pulls readers straight from the death of Mr. Boddy into the nefarious practices of Miss Scarlet.  Navigating through different flashbacks, there is a good case that the recent victim is just one in a pool of many for the illustrious vixen. It is clear that Mr. Boddy knew about Scarlet's short-lived relationships, but is she responsible for his demise specifically? There are plenty of hints hidden in the art, and if readers are not careful enough they are sure to miss them…Shaw even puts in a quiz to see how closely his fans are paying attention.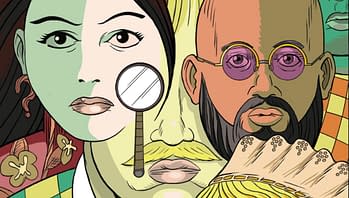 The bold art style of the comic packs so much information into a panel in an ultramodern way that it is difficult to determine if something is placed on the page for aesthetics or context.  If you are bold enough to cut up the comic, you'll have the pieces needed to play the game along at home or even try your hand at Shaw's nanogram.  If you are like me, you're more content with waiting on Clue Candlestick #3 which releases in July, and hopefully your favorite makes it to the end!
Enjoyed this article? Share it!