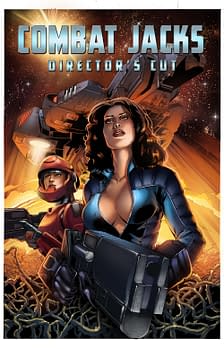 Mark McKenna writes;
In military jargon it's a bit different then what I intended it to be…
One October night two years ago I was sitting around the dinner table with my son Kyle, I was thinking about the old EC slip case book collections like Weird Science and Weird Science-Fantasy. I was recalling a fondness for the simple times of comic book story telling along with what would make a cool monster. Being Halloween time, and seeing something on TV about carved pumpkins made me think of combining the ideas and creating my own comic with a nod to outer space and monster comics.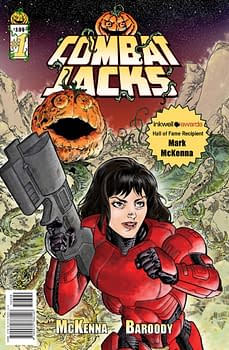 Combat Jacks is born!
My son and I went back and forth and came up with some concepts, that, while a bit cheesy, definitely created a homage to that 1950's era. In the not to distant future, what's better then a 10th planet getting knocked into our solar system and is in the same revolution path as the Earth but on the other side of our Sun and has breathable air created by the indigenous alien pumpkins that cause photosynthesis, right?
What if that oxygen that these these alien "Jack's" create is the bait that lures us to the planet? A Venus Fly Trap, if you will.
I created Combat Jacks as a one shot comic. It originally shipped Halloween week of 2012. I realized that after producing it on, what would be considered a tight budget, I cut the story a bit short and now in hindsight I can see that the story needs to breath more and explain more, hence, Combat Jacks: Director's Cut. In fact after I finish the Director's Cut edition of this book, I plan on making it a 4 issue mini series and with the blessing of a well known publisher it will be collected by that publisher into a 100+ page trade paperback!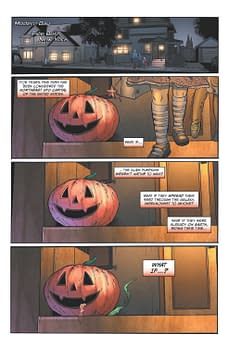 The catch is that I have to pay out of pocket to produce the 4 issues that will eventually be collected and that's where and why Kickstarter is so important to the process.
Anybody who has supported me in the past or is currently supporting me and this project knows of me and my long history as a comic book creator, knows that I've created a fun project or has read the first book and hopes I will continue this project or misses the days of classic Science Fiction Monster stories.
If you long for the days of reading comics as they originally intended to be, having fun entertainment value, well, then COMBAT JACKS: Director's Cut might just be the thing!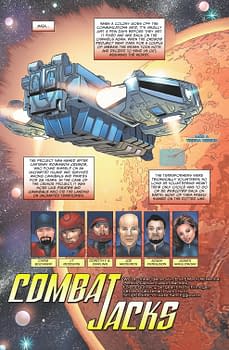 Enjoyed this article? Share it!