Comic book creator Tres Dean had a question.
Hey comics pros, what's a moment at which you had serious doubts about whether or not you'd make it in comics?

I feel like it's important for young creators (hi, me) to be reminded that doubt is natural and sometimes ever-present in creative careers.

— the Uncle Drew liker has logged on (@tresdcomics) 13 September 2018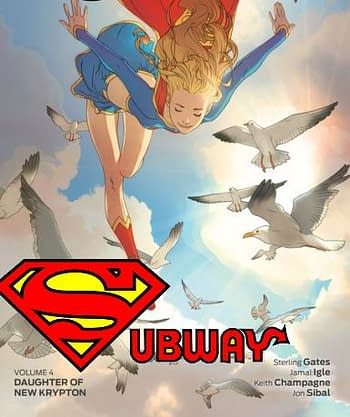 He got a lot of answers…
I was fired off Supergirl summer of 2010. I was told the higher-ups felt I "wrote her like a 40-year-old woman," and they wanted someone who could write an angrier, "more youthful" Kara. I cried in the parking lot of a Subway while stress eating a meatball sub. https://t.co/3EN39Wa2rG

— Sterling Gates (@sterlinggates) September 14, 2018
At the Manhattan DC Roadshow to promote the launch of the New 52, Bleeding Cool reported DC Publisher Dan DiDio as saying,
Supergirl, as she has been written, sometimes comes across as mature and responsible as a 40 year-old adult. She shouldn't. She's a teen who is still finding herself and her character should reflect that.
More…
Found out I was being replaced on Green Lantern from an article in Wizard Magazine about how the GL: Rebirth miniseries had been in the works for a year. In other words — the whole time I was writing that book. And no one ever bothered to tell me. How's that for fucked up.

— Benjamin Raab (@Wondermasons) September 14, 2018
A few years ago I had two books canceled in a row and no jobs on the horizon followed by a SDCC so bad I had a full on anxiety attack. I felt like nothing. And I honestly felt like I was starting all over again. And some ways still do. But that was my moment. 2015.

— Eliot Rahal (@EliotRahal) September 13, 2018
And in a story that might seem familiar to Chelsea Cain right now…
That would be when Marvel cancelled my miniseries before it came out due to pressure from outside bloggers, then convinced me to write a barely-disguised roman a clef about my own past life that included sexual abuse, and then hired the person who led the initial blog attack.

— Valerie D'Orazio (@StuffValWrites) September 14, 2018
And not just comic creators…
The first 15 years after #TankGirl was released.

— Rachel Talalay (@rtalalay) 15 September 2018
Some thought they'd broken in… but had a hard awakening.
2007 I got my first Marvel gig and thought I was on my way. Over a year passed before my next one. In between I was depressed and ready to quit. Wife convinced me otherwise. There have been 3 dips in my career since for various reasons.

— Ray-Anthony Height (@RAHeight) September 13, 2018
But, I hope, all of that is ongoing fear, but when I pause sometimes, I realise I already made it: 7 times on Kickstarter, when I was published by Vertigo, and Dark Horse, and ComixTribe, and Monkeybrain, and Black Mask.
The rub is you gotta keep making it in comics.

— 𝚁𝚢𝚊𝚗 𝙺 𝙻𝚒𝚗𝚍𝚜𝚊𝚢 📓☕️ (@ryanklindsay) September 13, 2018
I made it and failed many times. I was published in 2006 as a colorist. worked at Image, then Marvel. I thought I hit the big time! I crashed and burned so hard due to being a novice. I had to quit comics for several years. Now I'm 35 and pursuing being s penciller. I'm crazy.

— Joël (@joelseguinart) September 14, 2018
Every one success I've had has been built on probably 30 failures. Pitches that didn't land. Projects that were greenlit only to fall apart. Editors who promised work, then ghosted. I've just been too headstrong to ever listen to the you-should-give-up evidence as it piles up.

— Van Jensen (@van_jensen) September 13, 2018
I have one every day that I don't have a regular gig, which is most days. I'm having one right now.

— Roger Langridge @TBF18 188 ComiXology (@hotelfred) September 13, 2018
After Unknown Soldier ended I thought I'd be able to get another gig. We'd been nominated for 3 Eisners, including Best New Series & Best Single Issue, & reviewed in the NYT. But I found myself out in the cold for almost two years. I was filling out resumes when Valiant called.

— Joshua Dysart (@JoshuaDysart) September 13, 2018
A couple of years ago, after Morning Glories fizzled out—I had no other gigs. Felt like I was being pushed out of comics. I was ready to give up, when out of nowhere, Archie offered me a cover, which led to me drawing the arc with Mark Waid.

— Joe Eisma @ NYCC Table E6 (@Supajoe) September 13, 2018
When I was an editor at DC, Steve Englehart visited the office looking for work and left empty-handed. That shook me. I realized every creator has a shelf life, and spent every day since trying to forestall my own expiration date. You have to keep moving/reinventing yourself.

— Tony Bedard (@TonyBedard) September 13, 2018
When @eroscomix stopped publishing my stuff in 2006 and there was LITERALLY no other game in town for that kind of stuff. I'd spent 3 years coming up with nothing but X-rated ideas & suddenly I had no usable material.

— John Roberson (@jlr_1969) September 14, 2018
And other careers that beckoned…
All the time! It's a tight rope walk and I get jobs pulled and it's crushing. Heck 2017 I was looking into training to be a lumberjack because things were going that poorly.

— Marissa Louise (@marissadraws) September 13, 2018
After industry collapse in late 1990's, wasn't making good money, phone wasn't ringing. Applied for job at UPS. My agent @ArtGodfather got me an interview at Marvel, got job 1 day before UPS offered me a job. Did not take UPS job after all.

— Colleen Doran (@ColleenDoran) September 13, 2018
And all sorts of hardships…
Circa Phonogram pre-Marvel, waking up on the floor of Jock's bedroom at a Dublin con where we earn so little money all the actual pros petition the con runners to let us off from paying our table fees. https://t.co/Ko0MV4dmXF

— Kieron Gillen (@kierongillen) September 13, 2018
After my three AT books I expected some cool opportunities, but none really came. I had to double down on creator-owned stuff, doing 23(?) cons in a single year to try and pay for rent. I was AirBnB-ing my room when I was out of town and still starving to death.

— Josh Trujillo! 🏳️‍🌈 (@losthiskeysman) September 13, 2018
I watched a project I'd been working on for over a year and a half go from "any minute now" to "never happening" because of a shitheel editor at a new publisher that had zero clue what they were doing in Comics

— 💀 𝕵𝕭 𝕽𝖔𝖊 💀 @ SPX A1B (@mortcrimpjr) September 13, 2018
Is it worth it? For some, for many of those mentioned, yes. But even for recognised names…
I honestly don't know if I ever will "make it" — I've had successful runs, and I'm working to land the next gig, but I've never quit my day job. It's a tough business, but there's no point in giving up if it's what you really want to do. (This applies to everything, of course.)

— Will Pfeifer (@willpfeifer) September 13, 2018
Enjoyed this article? Share it!