Rod Lamberti of Rodman Comics writes weekly for Bleeding Cool. Find previous columns here.
Customer Service is a big part of a retail store. Every store has different standards. One of my requirements for all our employees is for them to say hello to everyone that comes in and tell them to let us know if they need help with anything. I want the customer to know we are here to help them. However, I also don't want us to hover over a customer and push product to the point were we push them out. That is my line of thinking.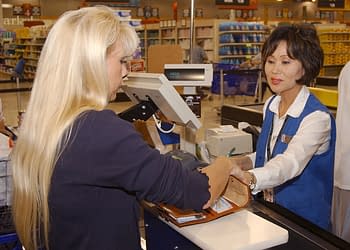 Several days ago I had a customer come in, and while we were talking I started putting a comic book box together. I didn't think anything of it. I usually talk and work at the same time. He asked, "do you have to do that now?" I was surprised. In my mind, I was putting together a comic box to replace the one that just sold and was still talking about movies with the person, and everything was fine. But without trying to, I managed to come off as rude in his mind.
I've gone to small businesses where employees didn't even acknowledge that I was there. I've always thought it's odd not to at least say hello to people that come in. However, there are people who would rather just be left alone. I remember one person whom I and my employees quit talking to, because they would always smart mouth something back and swear at us. Not just once in a while, but every time.
I want people to feel comfortable coming into the store. I have had people tell me we are more polite than other places they have been to. I've even had people tell me that I am less "creepy" than other small businesses they have been to.
I try. As I have stated before, I take pride in the store. But that doesn't mean we are perfect. Just like everyone reading this, there are times where we get sick suddenly while here at the store. A headache comes on suddenly while dealing with customers. Or, heaven forbid, I am informed of some bad news right before a customer stops in. It happens.
I have been to some businesses as a customer and have had a bad experience resulting in me swearing that I would never deal with them again. All of them are still in business.
The reason I work and talk at the same time is that I have a ton of things to do. There is what feels like a never-ending list of things that need to get done. It blows my mind when I go to other businesses and see a person playing video games or watching TV. Either they are swimming in money or not very worried about the business. I admit that a part of me is jealous. To not have a care in the world and relax at my store and goof off sounds nice.
What all do I do here? I try to make sure we sell. Even if there is no one in the store, I can list material online. Power Rangers #25 is super hot as I type this up. Boom! Studios made me a pretty penny with that issue. In store, I don't have a customer that will pay over $50 for the one per store variant of Power Rangers #25. Online, I can find one. We have an online store on our website, and I am very behind on getting what we have in store listed on it. Often, while I am talking with an established customer, I am working on getting items in our store listed online.
The most important thing an employee can do is sell, I often tell them. Cash flow means money is coming in to cover the bills. Ultimately, I want people who leave Rodman Comics to leave with a positive experience. Some days we hit it out of the park. Some days we strike out. Often, all the work that goes into customer service is taken for granted by a customer. That is human nature.
It is a lot like writing this column. Some days it's a home run. Some days the ball hits me the face. Regardless, I keep trying.
Happy April Fool's and Happy Easter, everyone.
Enjoyed this article? Share it!