ComiXology is the leading English-language digital comic book seller in the marketplace, and its sales follows many of the patterns of the comic book shop. But it has its own favourites as well for the digital audience, especially exclusive-to-digital titles, or titles aligned with digital licenses. Here are the top 25 sellers for this week, with sales based on the last couple of days. It is estimated that digital sales are from 10-15% of print sales, though this will vary from title to title.
Bleeding Cool has been covering the Marvel ComiXology sale in recent days, knocking down collections that sell for up to $40 to just 99 cents, including brand new collections. Which has led to some odd price juxtapositions.
But it has also utterly wrecked the usual ComiXology chart, that usually records the day's previous sales with single issues always dominating. Not this week… though regular favourites like Batman, The Walking Dead, Critical Role, The Wicked + The Divine and Star Wars burst through. A bit.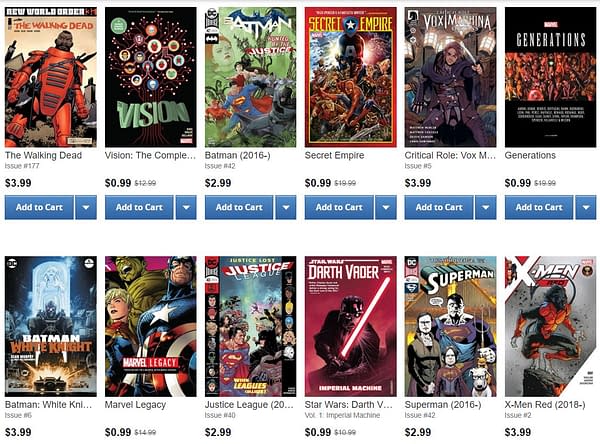 The Walking Dead #177 $3.99
Vision: The Complete Series $0.99
Batman #42 $2.99
Secret Empire $0.99
Critical Role: Vox Machina Origins #5
Generations $0.99
Batman: White Knight #6 $3.99
Marvel Legacy $0.99
Justice League #40 $2.99
Star Wars: Darth Vader: Dark Lord of the Sith Vol. 1: Imperial Machine
Superman #42 $2.99
X-Men Red #2 $3.99
Venomverse $0.99 $8.99
Secret Empire: United We Stand $0.99
Star Wars #44 $3.99
The Wicked + The Divine #34 $3.99
Thor by Walter Simonson Vol. 1 $0.99
Infinity Countdown #1 (of 5) $4.99
Amazing Spider-Man #797 $3.99
Thor by Walter Simonson Vol. 2 $0.99
Avengers #683 $3.99
Edge of Venomverse $0.99
Black Bolt Vol. 1: Hard Time $0.99
Peter Parker: The Spectacular Spider-Man Vol. 1: Into The Twilight $0.99
The Wild Storm #12 $3.99
Enjoyed this article? Share it!